An online timekeeping app is a must-have for companies that want to streamline their time and attendance-related business processes. Because why do it manually when you can implement automatic time tracking and use the time data it collects to learn more about resource consumption over projects and to automate tracking employees' absence?
Check how to automate your timekeeping process with TimeCamp!
Table of Contents
How much does TimeCamp timekeeping app cost?
What is a timekeeping app?
A timekeeping app, time tracking app, or time tracker, is a tool that logs the time users spend on their work, school assignments, daily activities, and so on. Depending on how richly packed it is, a timekeeping app user can use the data it gathers for various purposes, like timesheet filling, time reporting, invoicing, budgeting, etc. 
It's most often used for business purposes - as a project time tracker or a timekeeping app for employees with attendance management features.
Why use timekeeping software?
I should ask you, "Why you still don't use a timekeeping tool" - honestly, as with any other apps for automatization, it's a real lifesaver. Or, maybe, a timesaver sounds more accurate, since its crucial role is saving us the most precious resource, the one we often lack the most.
Which of the business operations does a good time tracker app save us time for?
💚 Employee attendance management
A good, old employees clock is a relic of the past. It's not only inaccurate but also requires a lot of manual work, which is just a waste of time and paper.
Once you switch to tracking time with TimeCamp, you can use logged hours for attendance tracking purposes.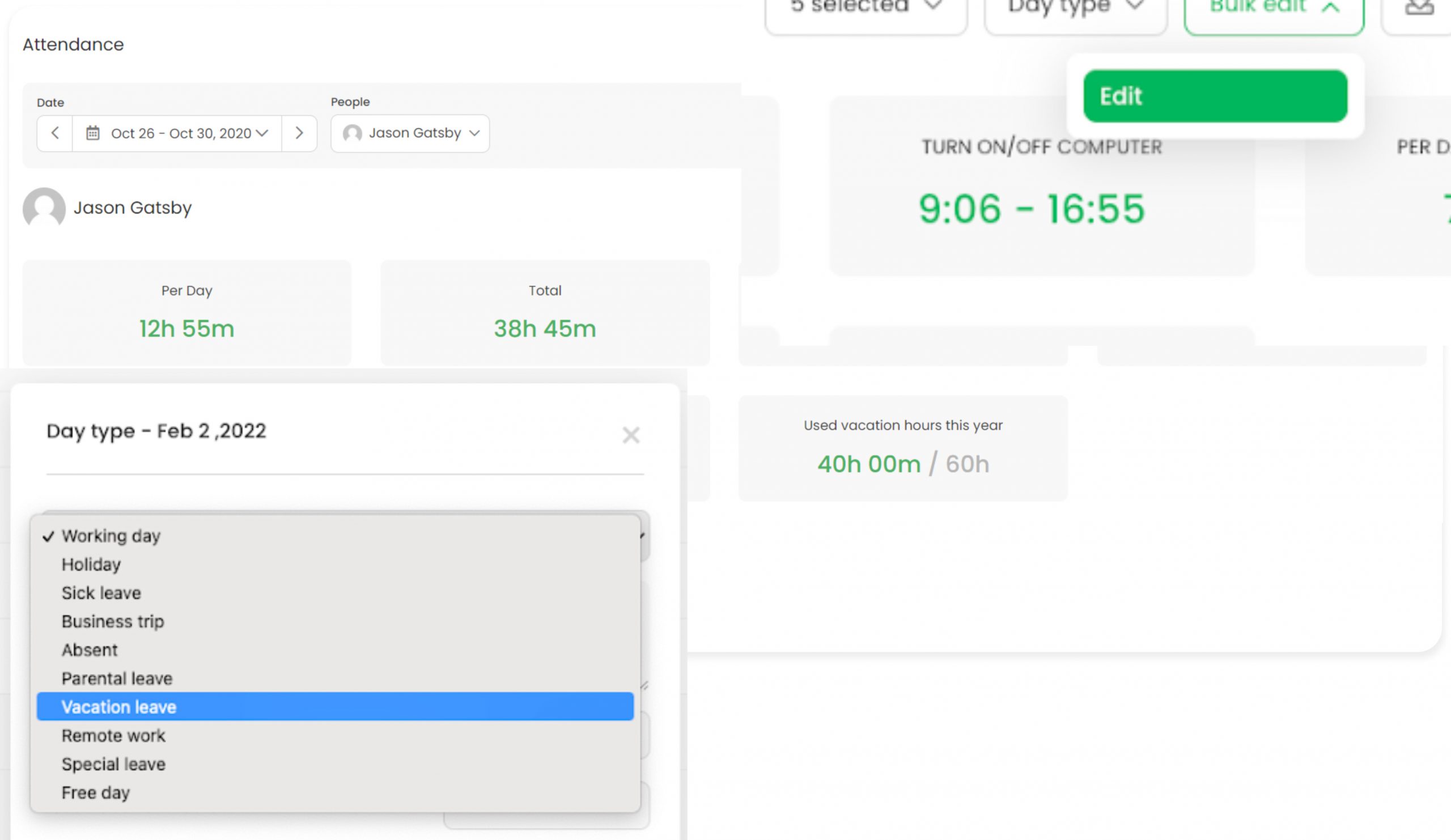 Our timekeeping tool offers many simple time tracking methods:
Automatic time tracking apps - a desktop app for Windows and Linux that starts tracking time once the device launches (turn the optional activity tracking module to assign time entries to appropriate tasks automatically),
A web timer that allows tracking time manually by adding new time entries or just starting a timer,
A week view that fills your timesheets with time entries even for an entire week at once,
Time clock kiosk that uses a shared device and unique 4-digit PIN codes,
30+ direct integrations with tools like Trello, JIRA, Asana, Monday, Clickup, Zendesk, Salesforce or Azure DevOps,
Browser plugin for Chrome and Microsoft Edge that extends the list of tools TimeCamp integrates with to 70+!
No matter which of TimeCamp time tracking apps you choose, you register work hours in a convenient, paperless way. Such timekeeping data allows you to prepare a payroll list in no time and track employees' absence and overtime. Moreover, integrating TimeCamp with an accounting tool will surely improve the quality of the payroll process in your company.
💚 Project profitability
Knowing how much time it takes to finish specific types of tasks is a crucial factor in successful project management. It provides the knowledge essential for proper estimates at the beginning and in case of any necessary adjustments during the project.

Proud to admit that our users have noticed a 30% increase in projects' profitability since they implemented our time tracking software. Once they started tracking time spent on tasks and generating reports for measuring the project's performance, their ROI also increased significantly.
💚 Budgeting
You can assign a budget for each project or task in TimeCamp. Choose if you want to track it according to estimated hours or estimated fees. Once the budget is set, you can compare the spending with the results included in the task report. Simple as that!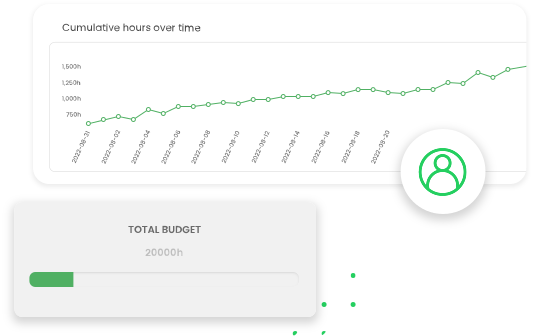 Tracking a project's budget with a good time tracking app allows one to keep the finances under control and prevents the company from overspending. It's essential because one likes doing charity work; we all want to maximize the revenues as much as possible.
💚 Reporting features
One of the most important TimeCamp assets, time reporting, is the source of knowledge about team and project performance. We're so proud of the versatility of this feature - TimeCamp offers various reporting templates with preset variables, but if you don't find the one you specifically need, you can always create a custom report with a pivot table creator with drag and drop variables.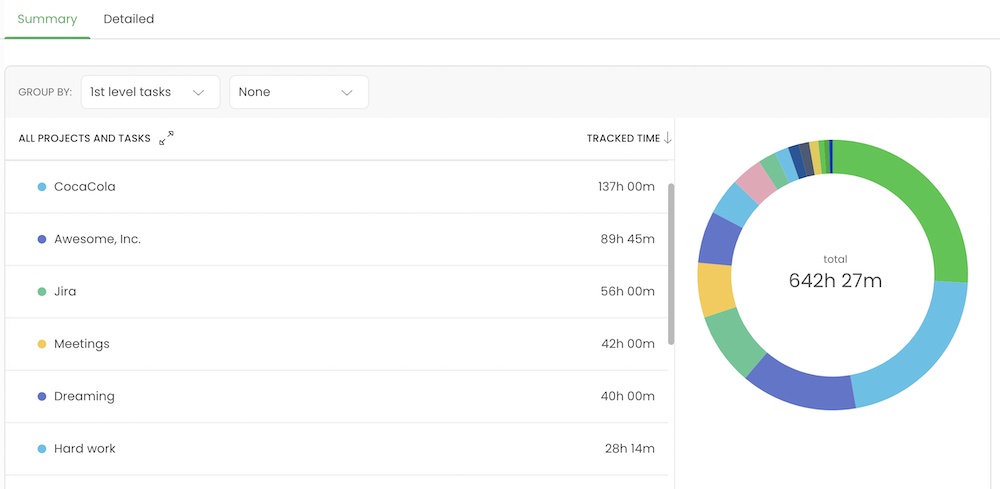 Track time manually or automatically and generate reports for:
a summary of the total time tracked for tasks and projects,
specific tasks or groups of tasks,
a particular employee or the entire team,
budgeting to compare your tracked time with a budget and assigned billing rates,
estimates to compare time spent on tasks and time and fees that has left from the assigned budget,
revenues to get info about the income of a certain employee and tasks they tracked time for,
costs to find out about the cost of tracked time by a certain employee on a specific task,
margin to compare the total revenue and total cost amounts,
location to supervise the results of GPS tracking app usage,
attendance to get a detailed overview of your staff's work hours and employee absence,
activities to show the breakdown of browsed websites and documents or used apps,
and many more!
Time reporting is essential to make smarter decisions on how to consume resources and distribute the workload when running a project. Performance analysis of old and ongoing projects is crucial for making more accurate estimates for future projects.
💚 Invoicing
With the TimeCamp timekeeping tool, you can use invoicing feature and create invoices straight from hours logged for a specific project or task. But if you prefer, preparing one using a blank document is also available.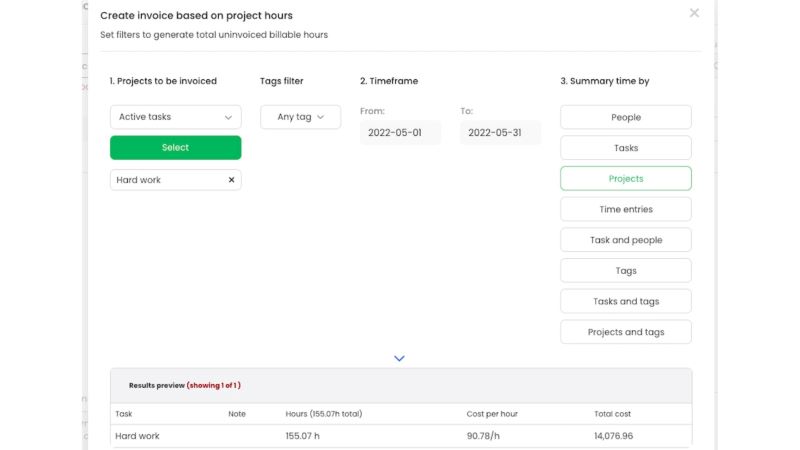 Once you create the invoice, you can email your clients with it, or send it as a handy link or PDF file. Moreover, by integrating TimeCamp with a Paypal account, you'll be able to track your payments for issued invoices on an ongoing basis.
💚 Billability
Tracking non-billable and billable hours is essential for accurate customer charging. It also lets us know if our activities gain revenue. Moreover, it streamlines client invoicing. A good timekeeping app like TimeCamp allows you to assign a specific billing rate to each project or user, allowing you to calculate the margin automatically.

Once you log hours for a task with a specified billing rate, you can easily generate an invoice for this task and send it straight to your client.
How much does TimeCamp timekeeping app cost?
TimeCamp offers a 14-day free trial and affordable pricing for teams and freelancers with various needs:
Free timekeeping app

– a free plan of TimeCamp for unlimited users includes all the essentials the best employee time tracking software app should have - accurate time tracking, unlimited projects, a time clock kiosk, desktop, and mobile apps, idle time detection, and many more,

Starter - $2.99 per user per month

, including unlimited tasks, excel reports export, attendance, time-off, overtime tracking (billed annually),

Basic - $5.99 per user per month

, including unlimited integrations, billable time, budget & estimates, apps & websites tracking, project archiving, and more (billed annually),

Pro - $7.99 per user per month

, including billable rates, labor costs, invoicing, timesheet approvals, custom user roles, and more (billed annually)

Enterprise - custom pricing;

contact sales team for more details
💡 Also, check if TimeCamp suits you right for free for 14 days – no credit card required!