Efficient project timeline planning should always be based on a thorough resource analysis. If you're looking for a time tracker that ensures you both basic time tracking features and advanced solutions for effective billing and budgeting, choose TimeCamp!
Table of Contents
How much does TimeCamp time and billing app cost?
💚 TimeCamp for time billing
Besides being a robust employee time tracking app, TimeCamp provides companies and freelancers with a set of features useful for efficient project time billing.
👉 Automatic time tracking
If you often forget about changing tasks in your time tracking app when starting something new, try time tracking automatization offered by TimeCamp.
Install a desktop app (Windows, Mac, and Linux available; download it here), and set the keywords lists for your tasks. TimeCamp will automatically track time spent working and assign time entries to the appropriate task. It's a win-win - you can be sure that your work hours are properly registered while staying perfectly focused on your work.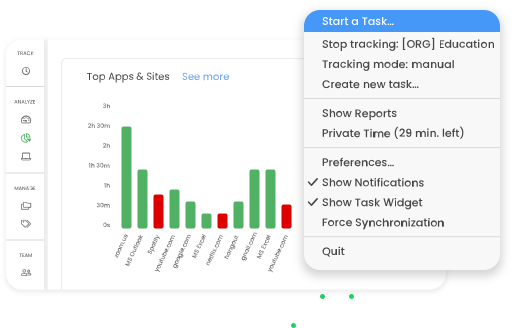 A desktop time tracking app tracks time as long as you don't turn it off, so even if it doesn't find a keyword to match the activity with a proper task, it'll continue the time tracking process and assign the time under a "no task" entry. You can then move the activities between the entries in the timesheet view.
Using a desktop app, you can be sure every second of your computer work is properly tracked and billed!
👉 Timesheets
TimeCamp offers three different web app timesheet views to maximize the convenience of adding time entries manually. All the views also provide a timesheet approval feature.
Match the way you track time with your workstyle to ensure accurately filled timesheets and high-level billability.
Day timesheet
Day view is a list of time entries registered for a particular day arranged in chronological order. Above the list, there's a bar that enables starting a new timer or adding an entry manually, inputting start and work hours.
Both time tracking modes allow assigning an entry to the tags, as well as adding tags and notes. Besides, you can easily stop a running timer and start it again if needed.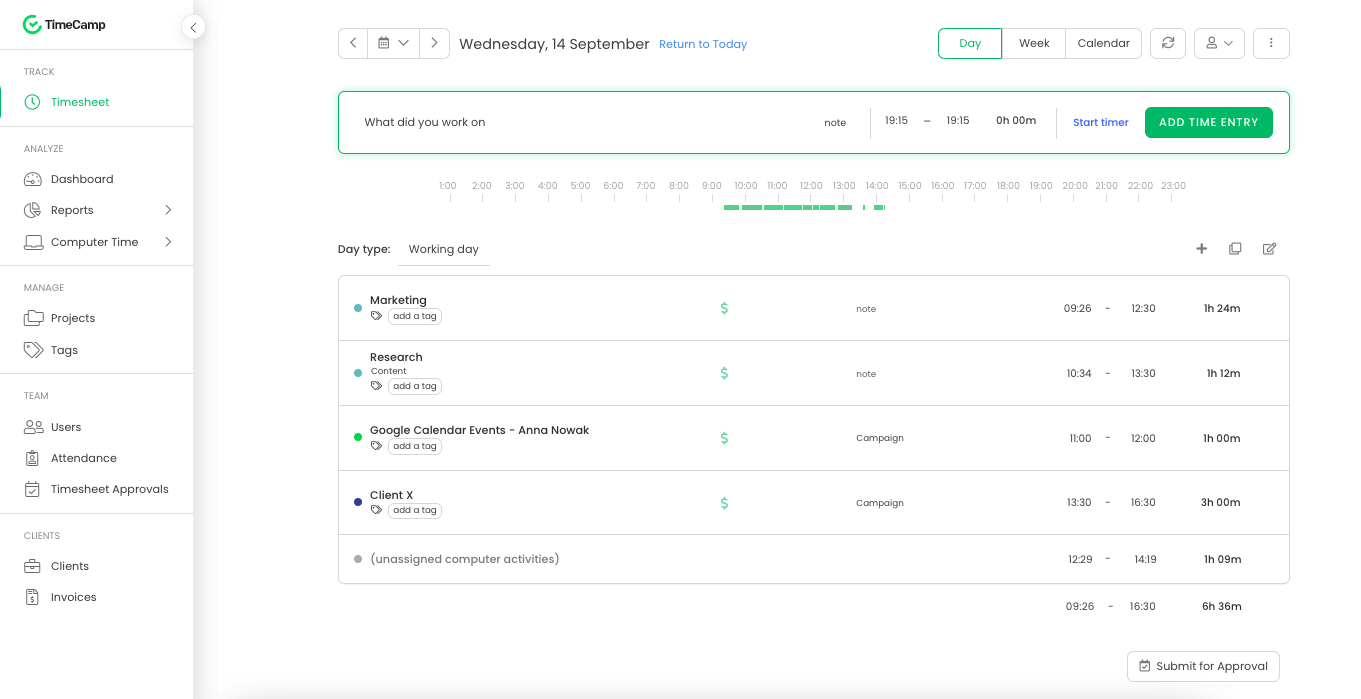 Calendar timesheet
A calendar-like table of your entire week in TimeCamp. New entries are not the items on the list, but colorful blocks of time - each color represents a different project for better visibility.
Here you can also start a new running timer, but if you want to add a new time entry manually, just activate the day you want to add an entry to; click on desired start time, your mouse/touchpad down, and release it when ready. Then, assign it to the appropriate task, and add tags and notes if needed.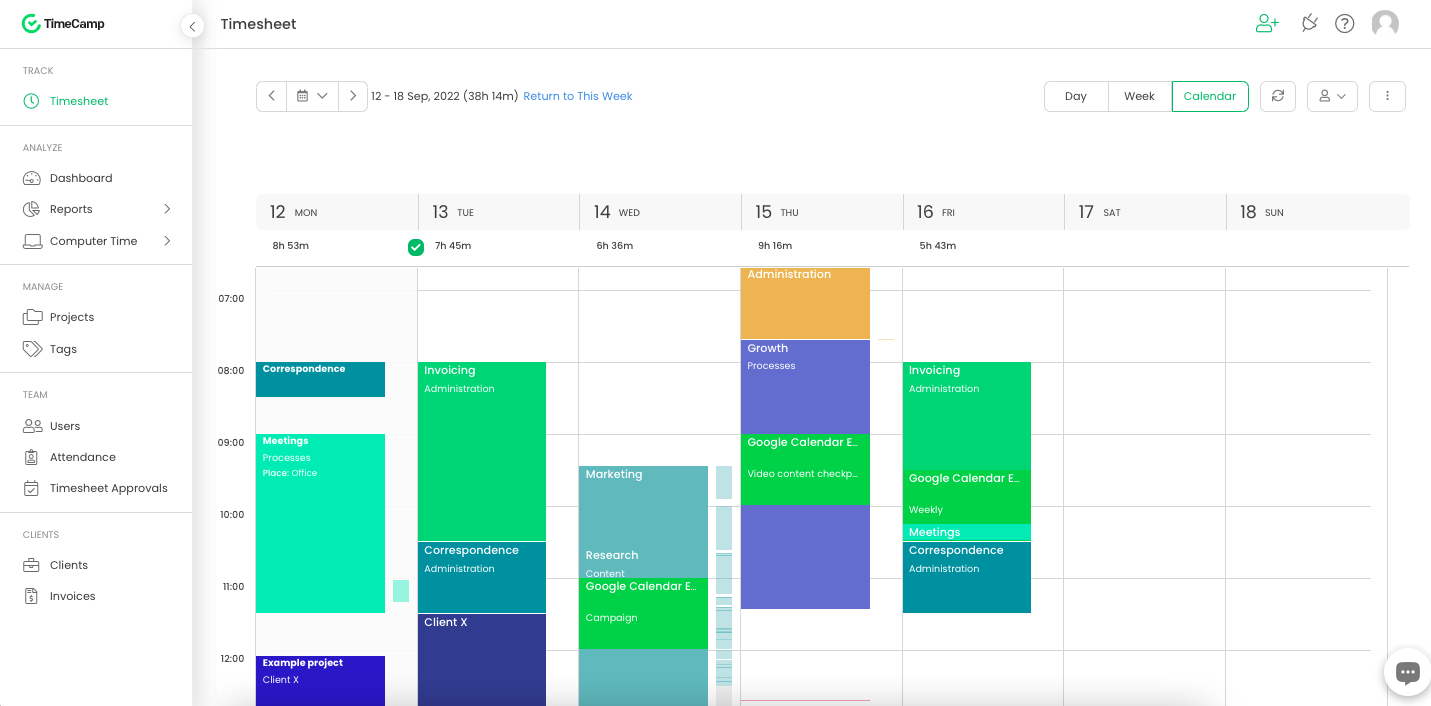 Week timesheet
If your work style doesn't require providing the start and end hours of working on each task, then consider using a week view. It enables filling a timesheet with work hours even for a week ahead or behind. It's also a textual view, but here you need only to provide tasks and how much time you worked on them.
Week timesheet allows you only to track time manually, so the start timer button is not available here.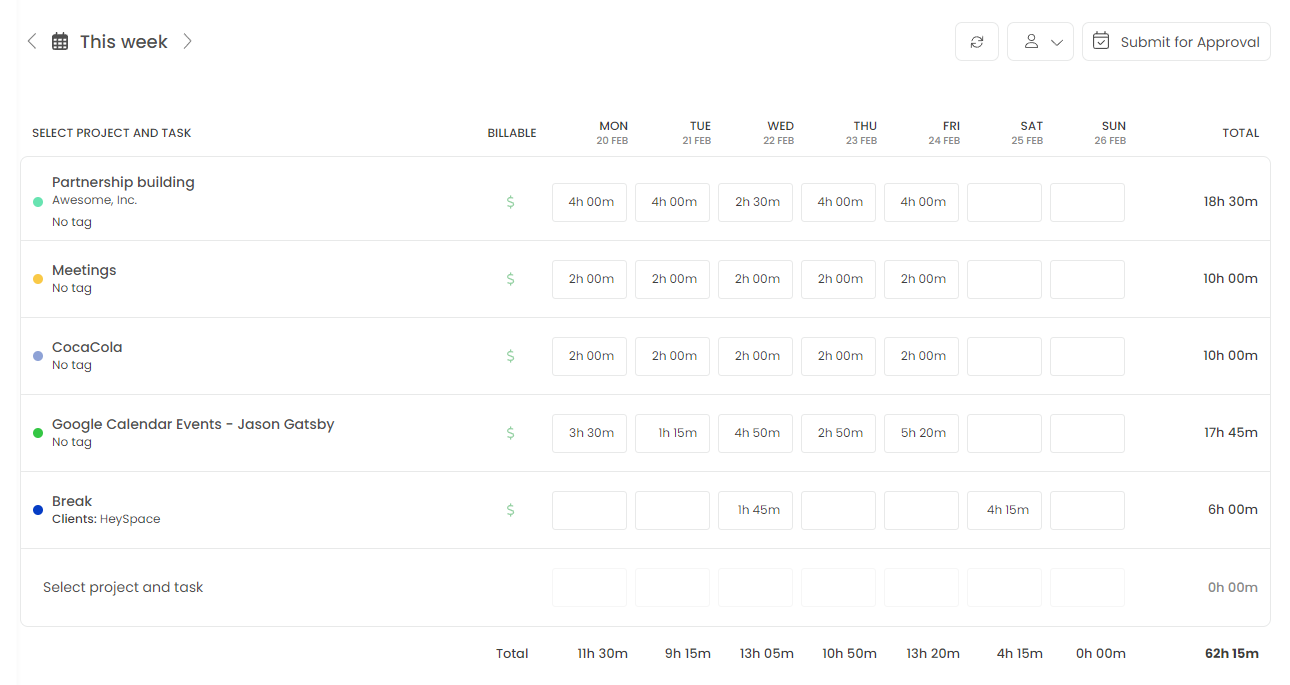 👉 Time and attendance tracking ap
You need people skilled in many areas to ensure the success of a project, and, thus, to charge the client accurately. Traditional attendance tracking methods are still effective, but in times of automation, they're just a waste of time.
To ensure your team full workforce coverage and efficient human resource planning, TimeCamp offers an attendance tracking feature that supports both in-office and remote teams perfectly.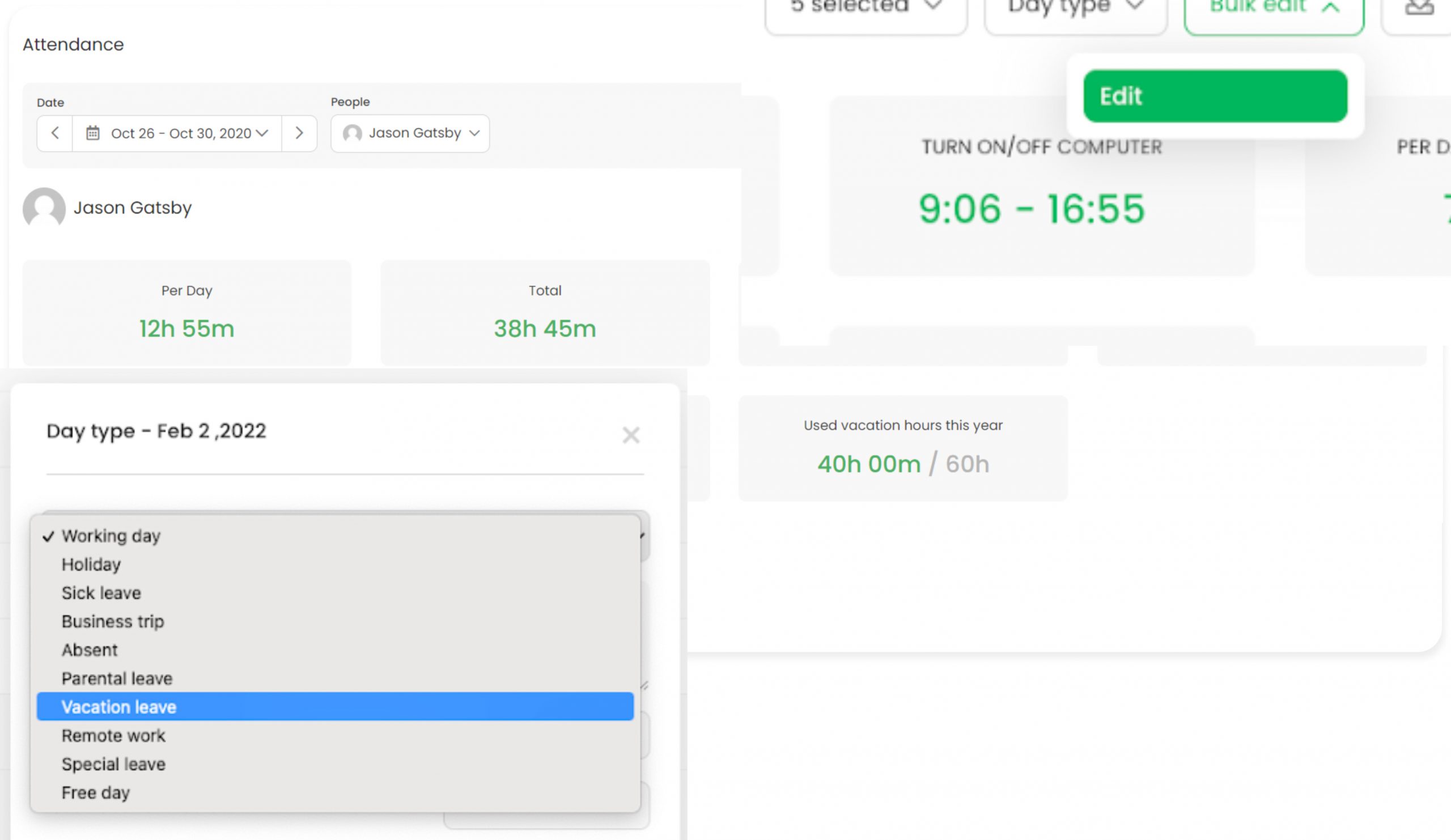 You can track time and attendance with TimeCamp in two ways - by tracking time automatically/filling timesheets manually or with a time clock app.
Once you and your employees track time for tasks, the attendance module registers the total number of work hours registered per day, as well as the exact hours of start and end of a working day (computer time).
On the other hand, a time clock kiosk, a solution dedicated mostly to no-desk jobs, allows the employees to quickly clock in and clock out using a shared device and a unique 4-digit PIN code. The time clocked when using Kiosk fills the timesheets and appears in the attendance report and fills the employees' timesheets.
👉 Budgeting and billing
Keep an eye on the profitability of your projects on an ongoing basis using a budgeting feature. Choose if you want to estimate a project budget by fee or by logged hours. Generate a budgeting report to compare current resource usage with estimations and make adjustments if needed.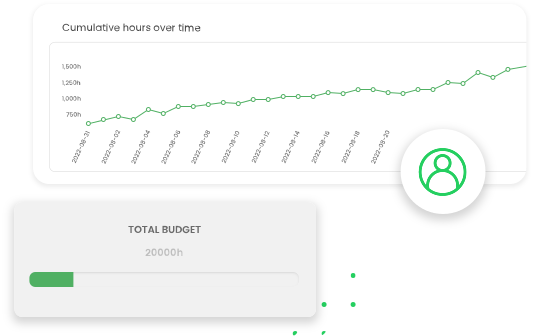 TimeCamp, a free time tracking app with billing, also offers billable hours feature. Make each time entry as billable by default or set it while adding a new one (or when editing the one that already exists); TimeCamp will treat other time entries as non-billable.
TimeCamp will send you an email notification once the project budget is near exceeding or is already exceeded, so don't need to check it constantly.
👉 Invoicing
In TimeCamp, you don't have to use other apps to create invoices - use the invoicing feature and billable time to quickly generate it, then send it straight to your clients as a handy link or PDF file. You can also create one using a blank template.
Besides, connecting TimeCamp with your PayPal account enables tracking payments on an ongoing basis- you'll never miss any money sent from your clients.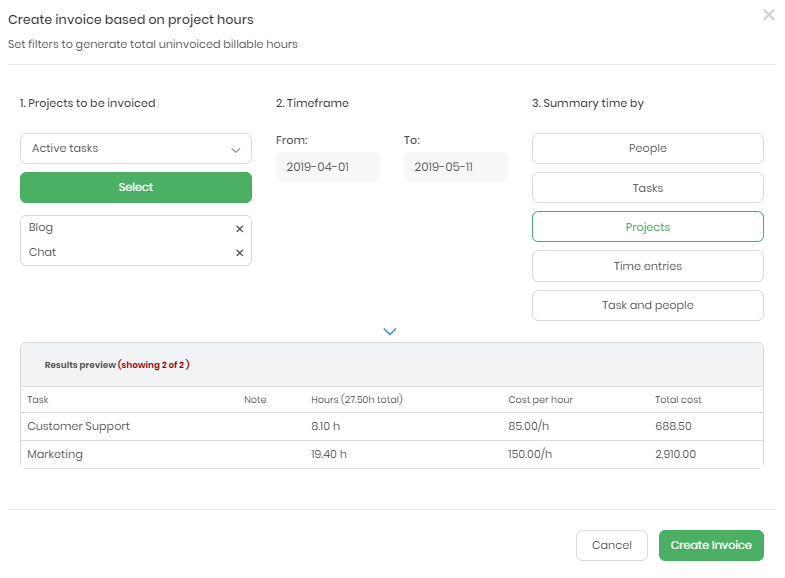 👉 Reporting features
TimeCamp ensures your company a robust time reporting to help you keep an eye on employees' performance, project progress, and resource utilization for your projects.
Track time manually or automatically and generate reports for:
a summary of the total number of hours logged for tasks and projects,

a specific task or for groups of tasks,

a particular user or the entire team,

budgeting to compare tracked work hours with the estimated budget and assigned billing rates (billable hours included),

estimates to compare time registered for tasks and time or fees that has left from the assigned budget,

revenues to get a clear overview of the income of a certain employee and tasks they tracked time for,

costs to check the cost of logged time, filtered by a certain employee on a specific task,

margin to compare the cost and revenue,

location to supervise GPS tracking app usage,

attendance to get a detailed overview of your employees' absences,

activities to show the breakdown of browsed websites, documents you worked on, or apps you used,

custom reports to create a report based on your own needs using a pivot table and drag&drop variables.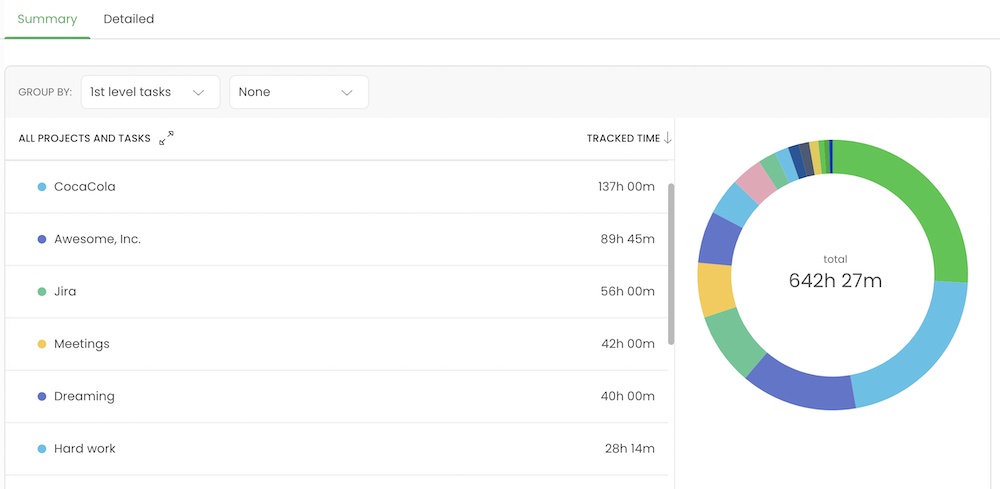 Time reporting is essential to make smarter decisions on how to allocate time, utilize resources, and distribute the workload when running a project. Performance analysis of completed tasks and ongoing projects is crucial for making more accurate estimates for future projects.
👉 Integrations
TimeCamp offers a variety of native time tracking integrations with 30+ accounting, sales, team collaboration, marketing, dev, or project management tools like Trello, Jira, Asana, Monday, Clickup, Zendesk, Salesforce, or Azure DevOps. By integrating Time Camp with other tools, you can enhance its usage and create an ultimate toolkit with time tracking, billing, and accounting features. Most of the integrations exist as in-app plugins or allow you to import the entire project structure to TimeCamp.
Besides, TimeCamp offers a browser plugin for Chrome and Edge - it extends the list of integrations to 70+ tools and allows you to track time to tasks on specific project management services directly, within the app.
👉  Mobile time tracking app
TimeCamp is not only a robust in-office time tracking app - it allows you to add working time whenever and wherever you are.
Mobile time tracking apps are available for iOS and Android devices. To make it less complicated, and, thus, allow you to add time as quickly as possible, TimeCamp for mobile provides you with the most important TimeCamp features:
Track time spent on projects and tasks,

Add new projects or tasks,

Generate a summary report,

Track location with GPS tracking apps.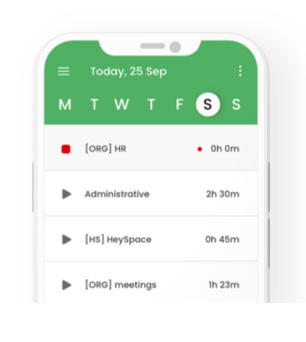 How much does TimeCamp time and billing app cost?
TimeCamp offers affordable pricing for teams and freelancers with various needs:
Free time tracking app - a free version of TimeCamp for unlimited users includes all the essentials the best time tracking software app should have - accurate time tracking, unlimited projects, a time clock kiosk, desktop, and mobile apps, idle time detection, and many more,

Starter - $2.99 per user per month, including unlimited tasks, excel reports export, attendance, time-off, overtime tracking

Basic - $6.99 per user per month, including unlimited integrations, billable time, budget & estimates, apps & websites tracking, project archiving, and more,

Pro - $9.99 per user per month, including billable rates, labor costs, invoicing, timesheet approvals, custom user roles, and more

Enterprise - custom pricing; contact sales team for more details
Keep your time under control with TimeCamp, your free time billing app!