Have you ever wondered if you really need a time tcustracking app? Of course, you do, so let me explain to you why and recommend some of the best time tracking apps that'll surely suit businesses no matter of size.
Table of Contents
Why do you need working hours tracking?
How many hours should you work a day?
What features should the best work hours tracker app provide?
What is the best app to keep track of work hours?
Hour tracking apps – conclusion
Why do you need working hours tracking?
Tracking employee hours has become popular over the last years. Respectively, the number of time tracking software users is consistently increasing. Many employees are afraid of tracking their work hours as there exists a belief that they are spied on. However, once the employee time tracker is implemented in the proper way, tracking employee hours turns out to be a good solution. As a business owner, team manager, or freelancer, you understand that time is one of your most valuable assets.
Working at an office is not compulsorily work all the time. Much of the time when we are waiting for instructions or working on a tiring, long project we will find ourselves browsing the internet randomly, playing a game or even reading a book just to keep busy while we can prepare ourselves for work.
This procrastination at work is not intentional. It often happens as an effort to cram everything in our daily lives. That is because we see the time that we spend in terms of daily schedule. We never consider our days in hours.
The simple answer for not being able to track the hours is that we can't. Most people can account for their day in general terms, they will remember the part of the day but not the hour.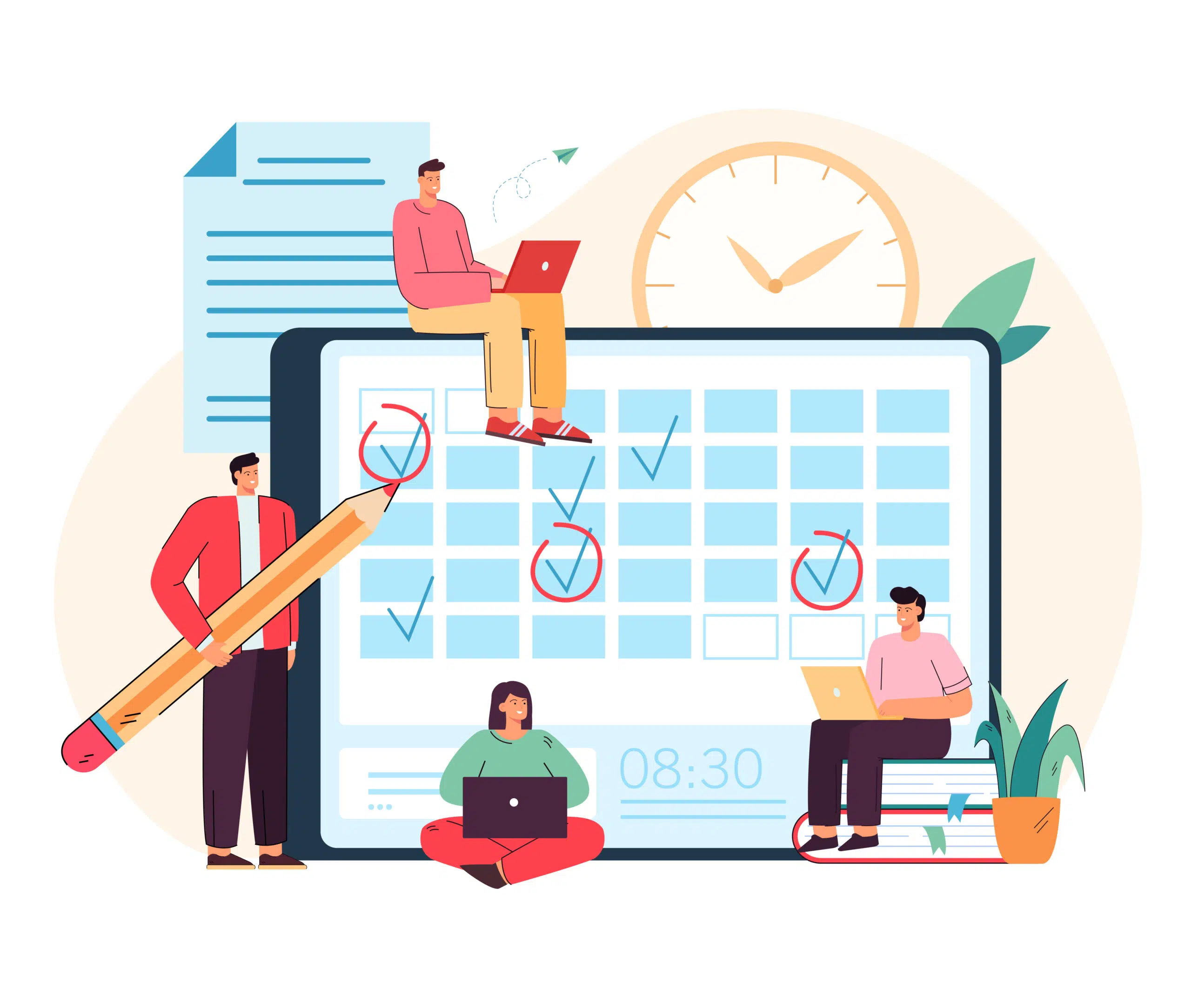 Time management is an effective tool that ensures progress and productivity in a business. No matter the kind of service or business, time management is one of the best ways to promote efficiency and is necessary for a work environment.
To get the most out of the time tracking experience and optimize the processes, consider 4 important and practical organizational aspects of time management:
create a to-do list

– It will help you see the exact amount of tasks you need to finish and better allocate time and resources to projects. Also, you will learn how to plan your workflow better. People use different ways to organize work such as: bullet journals, dedicated to-do apps, task management tools, project management software, time tracking apps and note-taking apps.

set goals

– If you don't set goals, you can't achieve anything. They're like your personal KPIs that help you measure and improve performance.

prioritize

– Focus on those projects and activities that require immediate attention or are difficult —

the big frog

. Every following task should be easier.

use dedicated time tracking apps

– You can choose from multiple time tracking software. There are simple online timers, work hour log sheets, time trackers that are part of project management tools, or stand-alone solutions with an automated tracker app that show the breakdown of your valuable time tracking data.
With the rise in digital development, time tracking apps effectively manage your hours and schedule work projects.
However, still to this day many people confuse the difference between project management and time tracking app. Employees often assume that employers are spying on them and crossing the border of surveillance by using a time monitoring software. The main purpose behind creating such software is to enhance your work and make you more productive, not to follow you on every step, even when you take a break to make a coffee.
So many companies decide to use time tracking software because it allows, above all, to budget projects and determine the costs of labor input. Sometimes people have to track the actual time against the estimates because it helps to keep the budget under control.
It is also worth mentioning that many companies face serious problems while implementing a time tracking software. And what follows is the conviction that it's the fault of the software. And that often drives to giving up the practice of tracking employee hours. This results in poor software adoption. So it is important to stay persistent and patient during that time.
It's easy to solve the issues with time tracking implementation process with the right strategy.
Time tracking is a business model adopted by many organizations to save time and maximize productivity in the workspace.
For a long time, workers would manually punch time stamps and monitor hours in excel sheets, amongst other painstaking time tracking devices. But most of these methods only encourage more time wastage and aren't practical in the 21st century.
In this article, you'll learn more about the leading time tracking apps, including their unique features and pricing. Then, you'll be able to choose the best device for your company and reach all your productivity goals.
👉Read more about the eat the frog technique!
How many hours should you work a day?
A 40-hours workweek is a standard for an average employee in most countries. However, we've recently heard many voices that companies should introduce shorter working hours. The Bureau of Labor Statistics states that it's expected for an average worker to spend at least 35 hours a week at work, which usually means five days, eight hours per day.
Many people tend to work as many hours as they're allowed to (which is quite understandable for those hired at an hourly rate that they want to squeeze as much as they can). New reports show that the average workday has increased 1.4 hours since February 2020, from 7.5 hours to 8.9 hours in October 2021, which gives us 44.6 hour workweek.
On the other hand, other workers prefer a flexible workstyle and compressed work hours; they can fulfill their responsibilities in a shorter amount of time. Because of similar reasons, such an approach is more popular among the people hired at a fixed price.
According to the standard number of hours workweek schedule, less than 35 hours worked per week is considered a part-time job.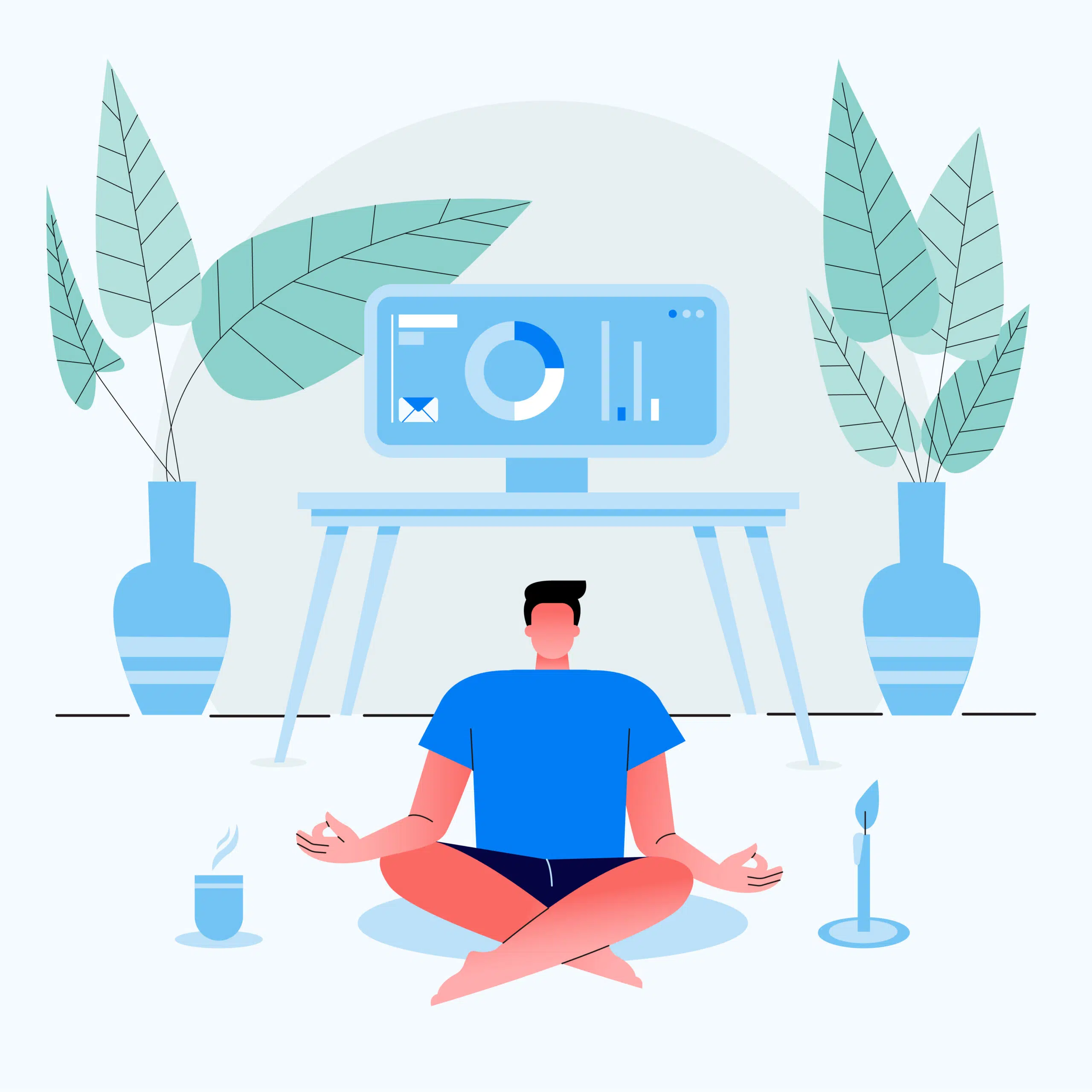 The research suggests that younger generations, especially Gen Z, which are now entering the workplace, are more exposed to work-related anxiety. They're starting their careers in uncertain times, afraid of losing the job and having problems with finding another. These anxieties affect their mental health significantly; they're complaining about long work hours combined with a lack of flexibility and time pressure.
And because of these struggles, many employees from the young generation are usually the first to be fired. The low performance and problems with meeting deadlines slow down productivity, and companies can't afford this.
Besides standard employment conditions, companies are now introducing alternative work schedules. They differ one from another, but their primary goal leads to the same effect – increased productivity.
The most popular alternative work schedules are:
👉 4 x 10 – A full 40 hours, but the employee works longer during four days- 10 hours a day (with a one-hour lunch break).
👉 Shorter workweeks -the most popular is a four-day work week, which means more work in less working hours.
👉 Shorter working days – a variant of the compressed workday, when you and your teammates work shorter hours (e.g., 6-7 hours per week) but have to complete all the tasks required for each day, doing your best in less time. Research shows that the shorter workdays make the people more motivated and focused on their assignments, but what they're worried about the most is the pressure of having fewer hours to fulfill their duties.
👉 Shift work – used mostly by the companies that operate 24 hours per day. Most employees work different hours but usually overlap one hour into the next shift. It's required to allow the employees to have at least eight hours rest between the shifts. Rotating shifts is a variant when the people work different shifts each day, and the shifts rotate between them.
👉 Overtime – working long periods, more than the standard 40 hours per week. Extra time goes with increased pay; the rate is discussed while filling the employment papers.
👉 Task-based contract – the employee is paid the fixed price not for hours worked but for the results of the tasks, they're performing.
👉 No schedule – the number of hours depends on the employee as long as they're meeting the requirements of their employer. They can work fewer hours or even devote a whole day to work if it suits them. As long as they're productive and deliver the results of their work in time, the company allows them to work as they wish.
👉 Freelance – the length of the working day depends on the freelancer's or contract worker's will; they are paid for delivering their working results before the deadline.
All of the work schedules mentioned above suit both in-office and remote assignments. They have different impacts on an employee's well-being and productivity; however, many companies still prefer the standard 40-hour work weeks.
Whether an employee works shorter days or prefers a long run, an appropriate measurement of their working hours is essential.
Nevertheless, it is essential to know the negative impact of working long hours. It can lead to suffering from overworking and high stress exposure. The symptoms of overwork are pretty obvious, like: physical exhaustion, being more vulnerable to distractions, problems with memory, feeling less motivated and many more.
What features should the best work hours tracker app provide?
There are many time tracking apps available, all with different features and functionalities. Regardless, some specs must be present in the best time tracking tools, and we'll be focusing on a few of them below:
Automatic time tracking
Time tracking is, of course, a basic feature of a work hours tracking app, but imagine if you wouldn't have to spend hours on filling timesheets manually? A good time tracking app should record the employees' time or a person's time on any given task, automatically. The app must also display the data report in a way that is easy to understand, e.g., graphs.
Some time tracking apps have geo-tracking features that allow you to check the location of your staff during work hours. It works for both on-site and remote employees, and this feature is essential, especially for large organizations.
The best way to be productive in that is using an automatic time tracker to monitor how much time in hours is spent on every part of the project by the relevant employee working on it. By tracking the hours of the employees, you'll be able to make the following changes:
Track the time that is spent on every part of the project and

take an average of that time for future projects

.
By tracking how much time was spent on each part of the project,

estimate the cost of the resources that have been spent

on the project making your budget evaluation easier.
By tracking the hours,

tell your employees where they need to be more productive

and how they could improve their work performance.
You could also make a

more conventional and flexible work schedule

after you have determined how much time is spent on every project.

You can estimate the total hours that are required to achieve the company goals

everywhere and by determining the productive hours, you can make a schedule that is inclusive of recreational duration.
Try Timecamp and see how easy is to track work hours with it!
Time clock kiosk
Kiosks are simple tools that just allow to clock in/out and cover the need for basic time tracking in e.g. manufacturing companies or for on-site teams. The tools are mostly hardware, like time card boxes placed somewhere near the entrance of the factory, but recently more time trackers began to offer that as a separate functionality.
Time clock kiosk that is a part of time tracking software is more efficient – it doesn't use the paper time cards, but a unique for every employee PIN code. To clock in and out, employees use the shared device placed in an easily accessible place of their workplace. The solution doesn't require an extra device – you can use a phone, a tablet or even a laptop to register start/end work hours and employees' attendance.
Reporting
You should expect to receive analytic time reports from your time tracking app. The app usually generates a report with a detailed analysis of the employee's total work activities.
These reports usually include; work summaries, project reports, and activity reports. Depending on how you set them, you can get the reports every day, weekly, or monthly.
👉 Read more about time tracking reports
Invoicing & automated payroll
Alongside producing timesheets, the best time tracker app also helps you manage payrolls and generate invoices.
You don't need to waste time tracking timesheets and processing payrolls since the software can do both easily. Automatic time tracking functionality is also a great workflow improvement – you just create invoices from registered time entries and send them straight to your clients.
Timesheets
Another important feature of your time tracking device is timesheets. The most convenient is to find apps that track time in the background and fill timesheets seamlessly with time entries.
It reviews the time data and calculates the work done in terms of
You can choose to receive the timesheets at daily, weekly, or monthly intervals.
👉 Read more about Best Timesheets Apps!
Integrated systems
Many users now choose time tracking apps with third-party integration. You can link your hour tracking app with other workplace app tools, such as a project management tool, a planner (to see calendar events as time entries), or a scheduler.
If you're managing a large business with several departments, you should look out for supporting third party apps.
Desktop app and mobile apps
Many time tracking tools offer a web app only but it isn't the most effective way of accurate time tracking. Still, you need to enter the time tracker app website and run the timer, start and stop it when needed.
That's why a desktop app with automated time tracking that seamlessly assigns entries to the appropriate projects is a must these days. The same is for apps for mobile devices that provide remote employees with robust time tracking service wherever they are.
Let's move on to the top time tracking applications in 2021 and beyond.
👉 You can also check the best planner apps
What is the best app to keep track of work hours?
Highlighted below are the best time tracking apps showing their features, benefits, and pricing:
1. TimeCamp
A feature-packed automatic and manual time tracking software with a solid integration system.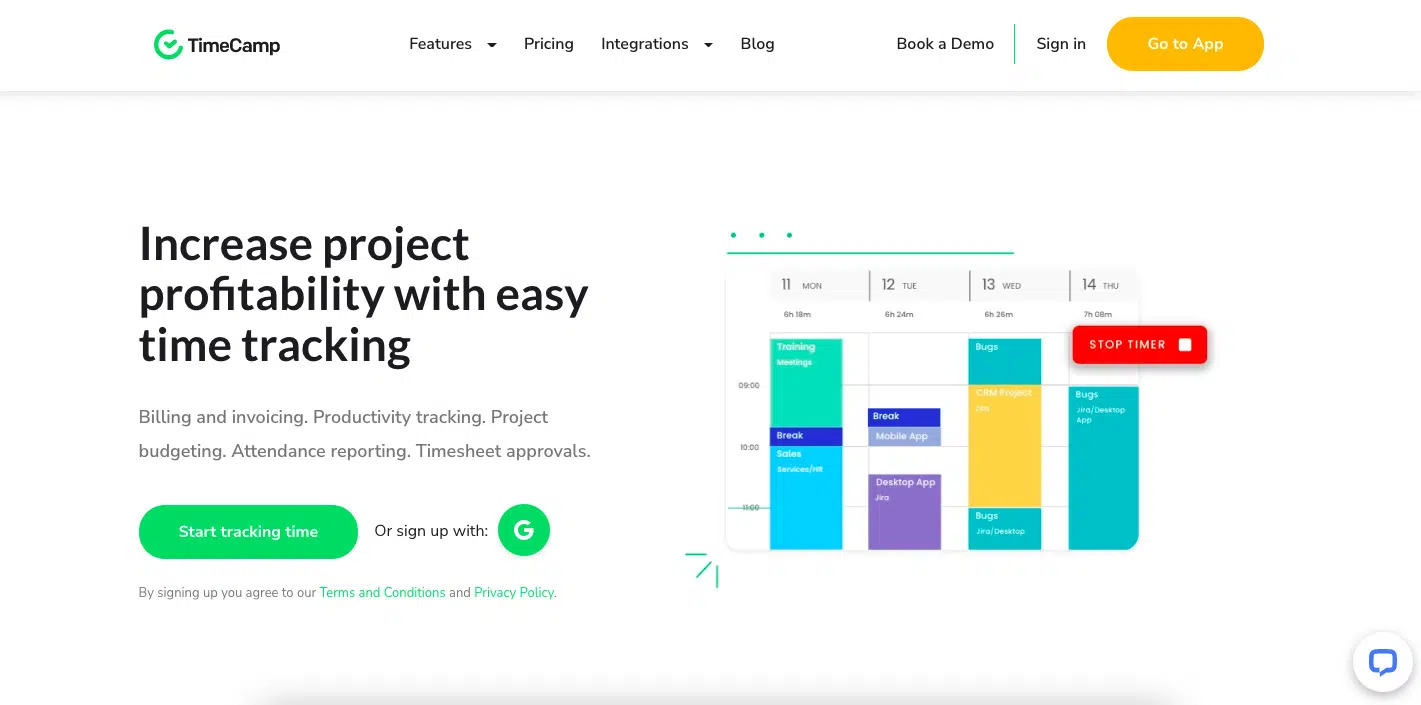 TimeCamp is a time tracking app that operates both manually and automatically. It is cloud-based and easily accessible either through a mobile app or a desktop app. It is available on Web, Mac, Windows, Linux, IOS, and Android devices.
In addition, it doubles as a time-tracker and billing app. It can also easily link with Trello, Jira, Asana, and other project management tools.
TimeCamp is very effective if you're working on a particular task or monitoring your project status. It also has monitoring features that enable you to inspect your employees during work hours. With productivity monitoring, you can check on your staff to see if they're working as you need.
Also, with its billing functions, you can track billable hours and generate your employee's payroll.
If you're a freelancer, it'll help you create invoices that you can easily send to your clients.
Apart from these features, TimeCamp is widely known for its excellent integration features. It allows you to integrate with 30+ other apps (like sales, accounting or project management software), but using the Browser Extension for Chrome and edge, the list extends to 70+.. So you can sync your tasks and projects with TimeCamp and begin time tracking with ease.
Key features:
Daily progress reports and analysis – shows the breakdown of the team's work hours and valuable time, an all-in-one time tracking app for measuring and analyzing employee productivity and projects performance,
Generates and stores invoices for clients; you can create a blank invoice or a new one based on tracked time for the same project,
Provides teams with basic project management features, so you can see how many projects are open and archive the old ones,
Alert notifications for when the invoice is received.
Tracks attendance and check-ins – besides being a robust employee time tracker, TimeCamp also tracks the absence of your employees and provides detailed reporting on their attendance,
Timesheet approvals – once your employees send a timesheet for approvals, you can lock time entries and prevent further changes,
Pricing: TimeCamp is free for unlimited users, but this only covers limited features. To get the full benefits, you'll need to choose a payment plan. You can also choose to pay monthly or annually.
Basic and Pro monthly plans cost about $7 and $10 per user, respectively. For the yearly plan, the basic plan costs around $6.30 per user, and the pro plan is $9 per user. They also offer discount pricing to non-profits, students, and universities.
Extra Tip: You can take advantage of the user-friendly interface and customize the app to suit your preference.
2. DeskTime
An easy-to-use work hours tracker with special productivity identification features.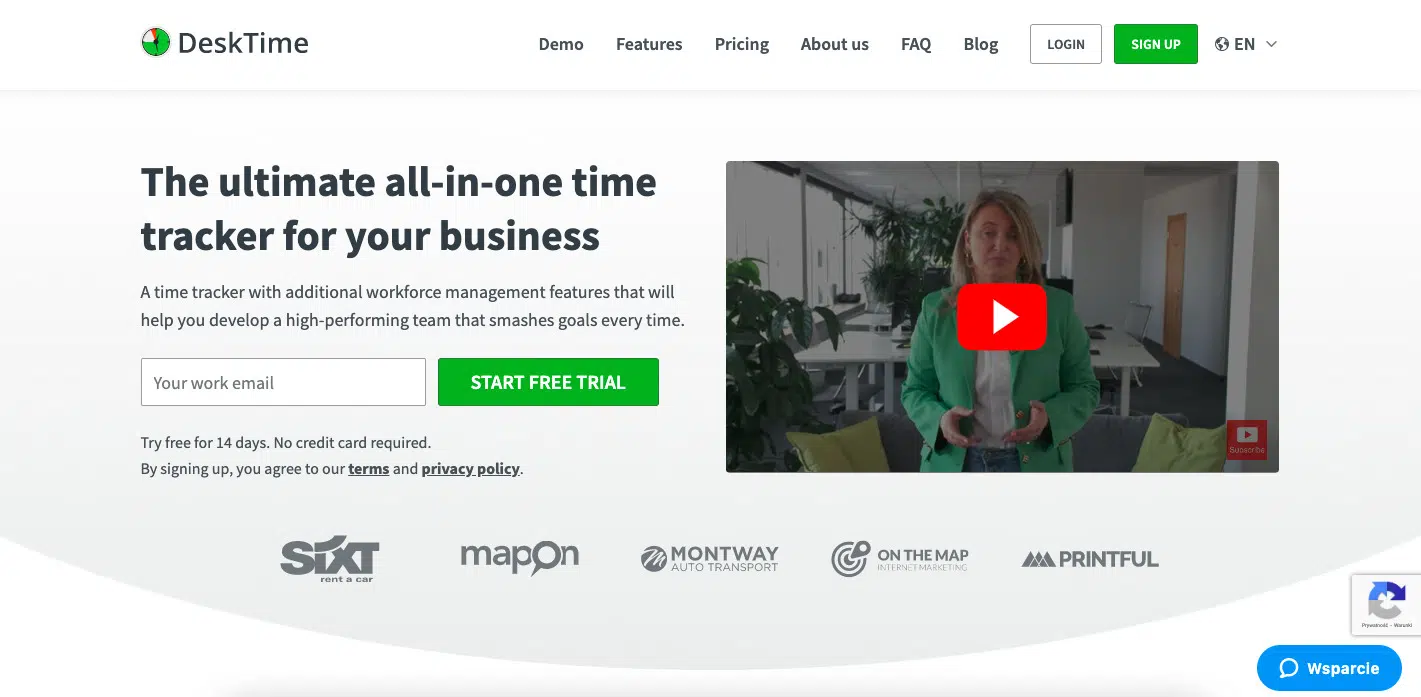 DeskTime is not only a time tracking app; it is also a productivity monitoring app. It performs a detailed review of your working activities and separates web pages/applications into 'Productive' and 'Unproductive.'
It helps you to identify time-wasting habits and calculates daily productivity levels.
It works with your URLs, programs, apps, amongst others, based on the categories you've provided to show how productive you are.
You can set the productivity or unproductivity of an app/URL to fit the user's status. For example, Twitter can be a productive app for a publicity team but unproductive for the accounting team.
DeskTime is excellent for managing group projects in small or large business firms. It gives you a complete picture of your company's overall productivity level.
Once you set the productivity target, the software will give you a detailed analysis of how your employees work towards this goal. It is available on Mac, Windows, Linux, Android, and IOS mobile devices.
Key Features:
Daily productivity updates

Visual and Saveable reports

Time Scheduling
Pricing: DeskTime offers a lite-free version for single users. For Desk Time Pro, pricing starts at $7 per user for a monthly payment and $3.85 per user for a yearly payment.
DeskTime premium costs $9/user monthly and $5/user for large teams annually. DeskTime Enterprise is used in large companies and costs $14/user for a monthly payment and $7.70/user for annual payments.
Extra Tip: It doesn't require too much configuration and comes with a Pomodoro timer feature.
3. Harvest
Effective time tracking app with included expense monitoring settings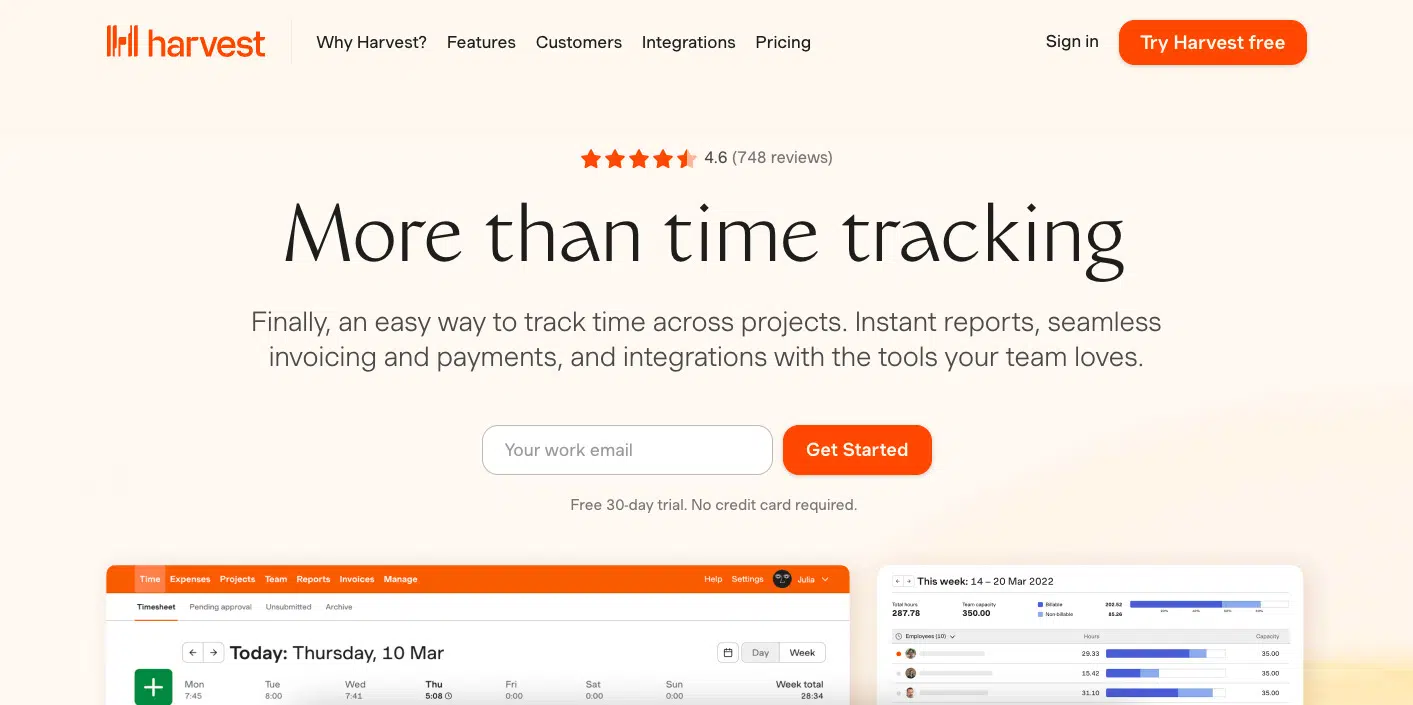 Harvest is an excellent app for tracking personal and individual time management. It records the time spent working on tasks and your general work status.
It also creates appealing visual reports that are easy to understand. It includes an expense tracker, which is especially useful for startups and freelancers in any job field.
It will also help you manage your invoices and revenue flow while also helping you track time as well. It allows you to link payment software like PayPal or Stripe easily.
When you've completed a project, Harvest allows you to send invoices to your clients directly.
Key Features:
Creates invoices to clients and receives payments automatically,

Offers visual reports and expense tracking,

Integrates with payment software
Pricing: Harvest is free for single users on only two projects. For a solo plan, the price is $12 monthly with unlimited projects. Pricing for a team plan starts at $12 per user, every month also for unlimited projects. If paid annually, pricing is calculated at $10.80 per user.
Extra Tip: If a client has received an invoice and hasn't paid after the deadline, Harvest will send a polite reminder to the client on your behalf.
4. Hours TimeLord
Time clock application with adequate hour tracking features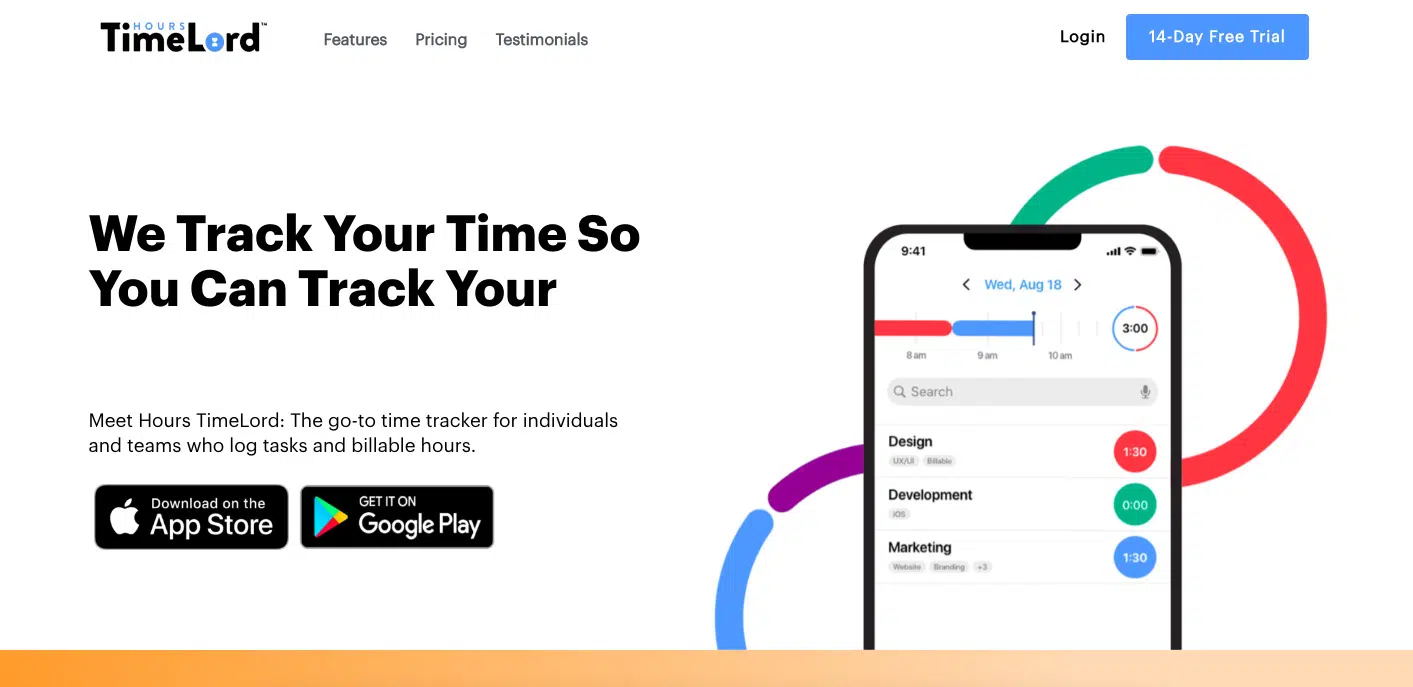 Hours TimeLord is mainly suited for small-scale businesses or freelancers who only require basic time tracking features.
👉 Read more about small business time tracking
It is only available on Web and IOS devices, which limits its usage. With the mobile app, you can have a running list of timers and switch between tasks as you like.
In addition, it helps you manage your projects and assignments with a color-code system. This means that you can arrange your tasks with different colors to help you identify them.
You can easily adjust timestamps with the app's timeline. So you can correct any errors to ensure that the tracking time feature works as required.
Key Features:
Provides Project color-coding

Alert notifications reminding you to start the time tracker

Compatible with Apple Watch
Pricing: Monthly payment is $8 per user, and the annual fee is $80 per user.
Extra Tip: It is solely a work time tracker and does not offer any productivity monitoring. So it's less effective in large companies.
5. Toggl Track
A timer-based app with a simple featured time-tracking system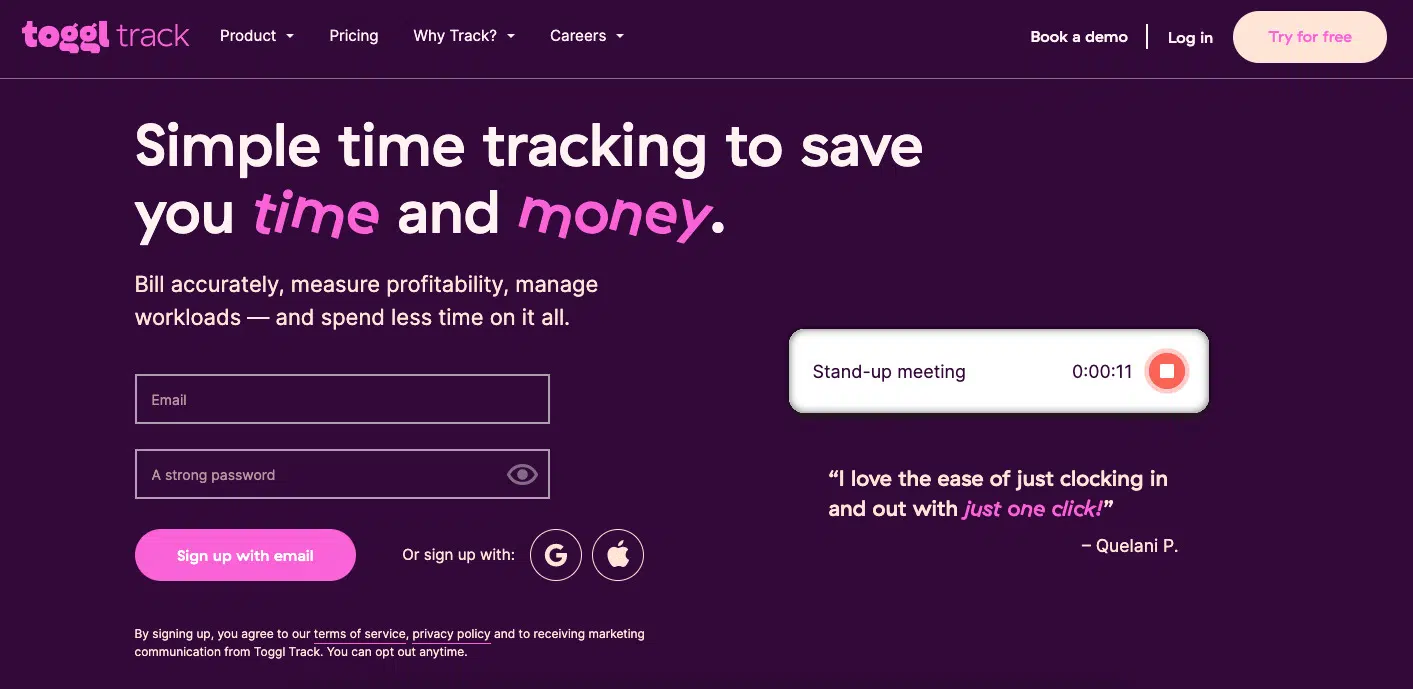 It is basically a timer that can also help you track time. It is commonly used by freelancers, startups, and many small businesses.
Toggl Track comes with a timeline and budget plan feature so you can monitor your project and budget expenses at once. You can easily set up a project or task with estimated timelines and a budget for each project.
Once you're done with a task, you can click stop and switch the timer to another task. You can also create and send invoices through the app to the client directly. It also allows you to send time reports to your clients to promote transparency.
Toggl Track is available on Web, Mac, Windows, Linux, IOS, and Android platforms only. Toggl Track also offers an Android app that you can operate with your existing account.
Key Features:
Allows browser extensions on Google Chrome, Mozilla Firefox, amongst others.

Provides

project timelines

and budget estimates.
Pricing: Toggl Track is free for up to 5 users, while the paid monthly plan costs $10/user for Starter and Premium is $20/user. The annual payment for the Starter plan is $9/user/month, and the Premium plan is $18.
Extra Tip: Toggl Track is a friendly tool for personal productivity and work management. Individuals use it to track their productivity levels.
6. Quidlo
Simple online time tracking app with reporting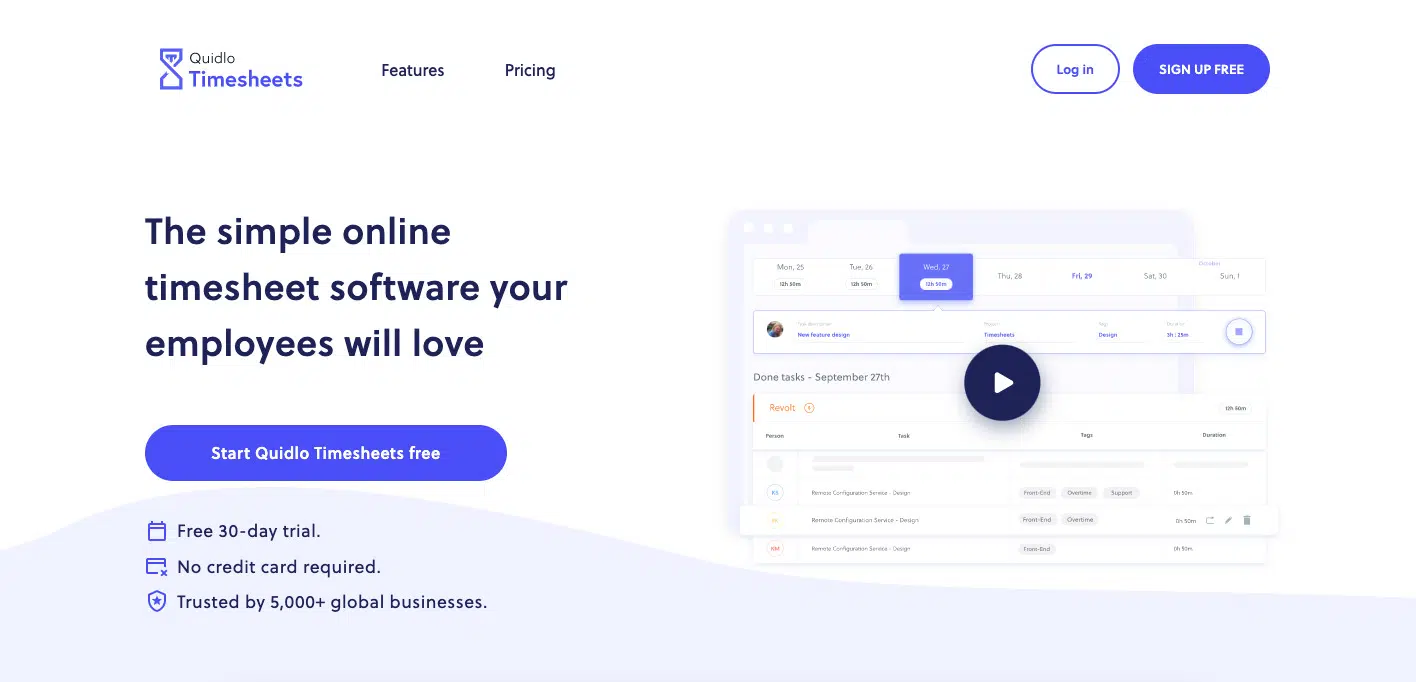 Not every company needs a comprehensive time and team management suite. Luckily, it's not rocket science to find a simple time tracking app on the market, and here comes Quidlo – an employee hours tracker that helps keep an eye on how many hours the projects take.
Quidlo works basically on manual time entries – you can start and stop a timer and make changes in tracked time if needed. The tool's custom detailed reporting gives project managers valuable insights into working hours, employee productivity, and time spent on projects. Reports are shareable; you can easily send them to the team members or clients.
Being a simple employee time tracking software Quidlo doesn't offer a variety of integrations with other apps – you can get it only as a chatbot for Slack and Google Chat. However, it'll surely work nicely as a basic project time tracking tool.
Key Features:
Offers team management with user roles and allows managing multiple organizations and their users at the same time,

Provides a one-click web app, desktop app, and a free time tracking app for iOS and Android,

Generates detailed reports on time spent on each project
Pricing: Quidlo offers a free plan for up to 10 users. Bigger teams can choose between Pro ($29 per month, billed annually) and a tailored custom one with custom pricing. A free 30-day trial is available.
Extra tip: With Qidlo, you can create a basic structure for your projects and use it as a simple project management tool.
7. Hivedesk
Time tracking app for on-site and remote employees with screenshots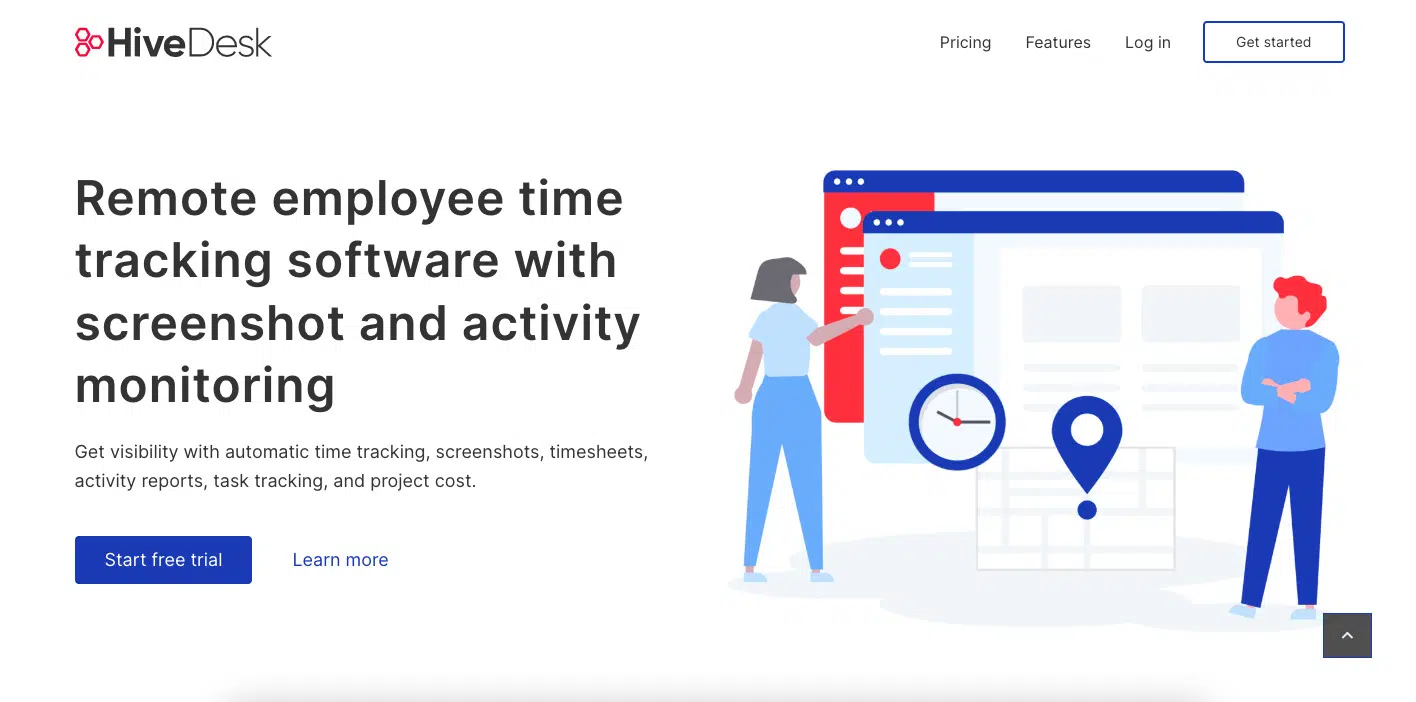 Employee time tracking apps that are packed with screenshots got more and more popular last years, mostly because of a pandemic.
Hivedesk is such an employee time tracking app – it provides companies with activity monitoring and screenshots, giving the project managers control over their subordinates' work hours.
Tracking time with Hivedesk, each time entry goes automatically to your timesheets, filling them up with logged hours. Besides, it collects other tracking data, so you not only track work hours but also daily activity to see who's working on what.
Hivedesk also provides basic project management (or rather task management) – you can create and manage tasks with it and assign employee work hours to the particular task for more efficient time organization and billing process.
Key Features:
Offers automatic time tracking app with timesheets,

Project cost management – tracks billable hours and calculates project profitability,

Helps you set up different user access levels for better control,

Captures screenshots to find out if work hours submitted by the employees are truly time spent at the deep work
Pricing: Hivedesk isn't a free app; the paid pans start at $25 per month for a 5-user plan.
Extra tip: Use screenshots to monitor your employees work activity.
8.Connecteam
A time tracking app that turns every device into an employee time clock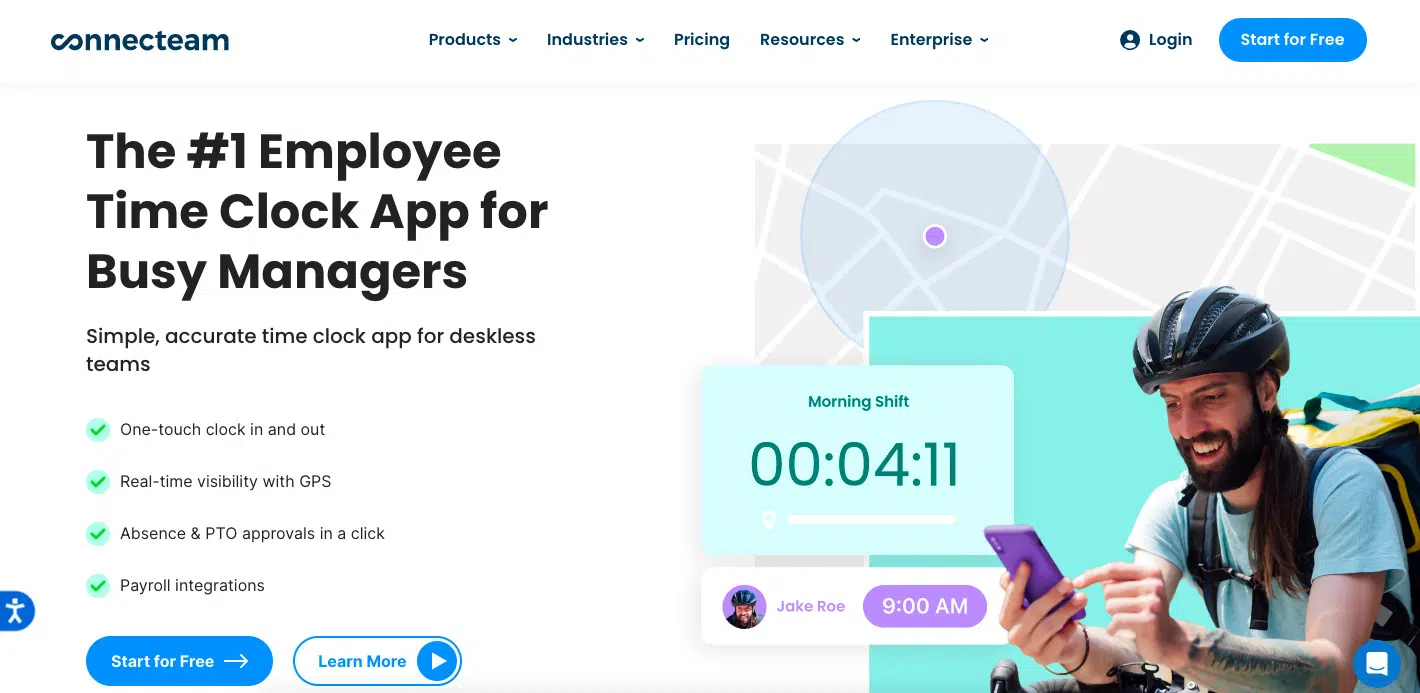 Connecteam is a leading all-in-one employee hour tracking solution that's easy to use, can be used on the go, and is made for any business size or industry type.
Notifications and reminders ensure your team never forgets to clock in or out again so you can effectively handle payroll. Plus, the timesheets and payroll options are easy to manage so you can save valuable time. Even when you're on the go, you can instantly see who clocked in where and when, examine the map view, manage vacation and time-off requests, and much more.
Key Features:
Job scheduling,

Communication and engagement features,

Online training and onboarding,

Task management,

Digital workflows,

Checklists,

Reports.
Pricing: A free plan is available; however, it includes the most basic features, and only teams of less than 10 users can sign up for it. The cheapest paid plan costs $29 per user per month for the first 30 users, then you need to pay $0.5 per month for each additional user. Free trial available.
Extra tip: It's a mobile-first app, so employees can clock in and out right from their smartphone with the click of a button. And, their location is tagged with a timestamp and GPS location so you can be sure everything is accurate. Geofencing ensures everyone is clocking in and out only at the predetermined location you set.
9.Timenotes
Time tracking software with basic project management tools-like features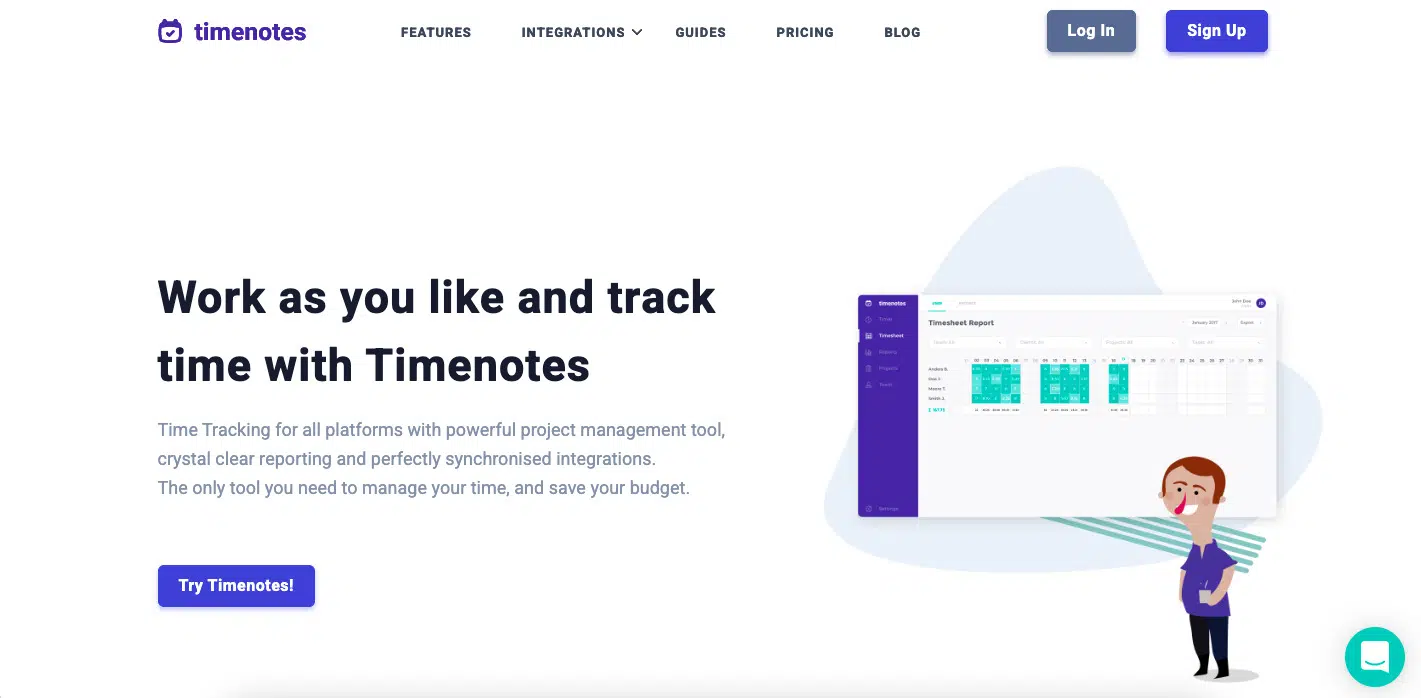 Timenotes is a simple time management software that allows adding new or editing existing time logs manually. But if you want to save time filling timesheets, the start/stop button is also available. You can also define tags and use them to categorize your time spent on various tasks. Moreover, browse employees' timesheets to prevent overworking.
Key Features:
Manual time tracking and start/stop trackers,

Time reportsing

Absence tracking app,

Basic team management,

Project tracking,

Integrations with Asana, Trello, and Todoist.
Pricing: Teams of up to 10 users pay a $6,99 flat fee; a paid plan for bigger teams costs $69 per month when billed annually.
Extra tip: Except for being an employee time tracker Timenotes provides project managers with time reports that are generated based on how many hours employees worked. They can be used for easier invoicing or to show proof of work for clients.
10.Rise
Clockwork-like running time tracking software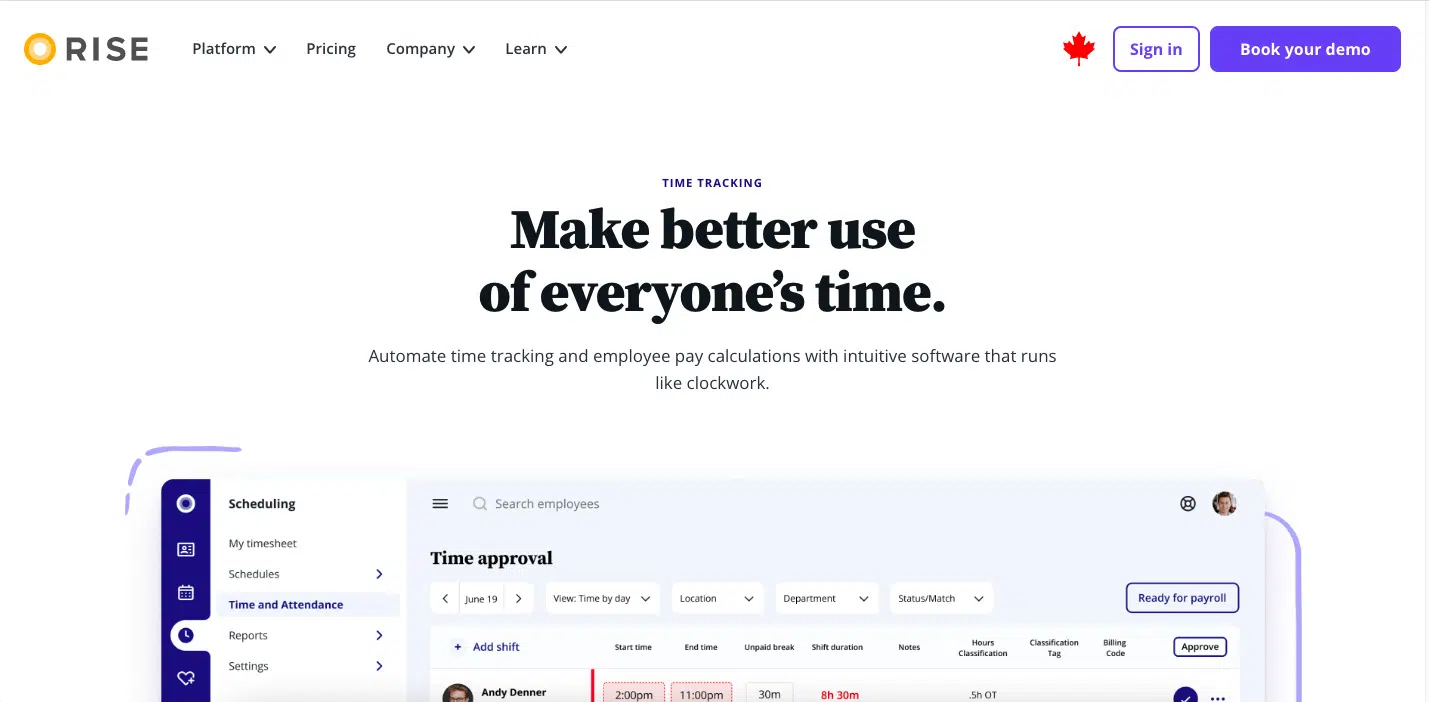 Rise time tracker is a part of the HR suite of the same name. The tool runs like clockwork and ensures employees with various ways of punching in and out, such as touch or face ID, ID card, or mobile device, thanks to the mobile app packed with geolocation and IP tracking (the latter is mostly dedicated to off-site workers).
With Rise, timesheet reviewing takes a much shorter – you can set the worktime, break, and overtime rules according to which employees' timesheets will be approved or not. You can also use your time tracking records, budget tracking, and creating accurate payroll lists to know for sure the employees and contractors will be paid on time.
Key Features:
Mobile app and web punch in/out,

Advanced features of clocking in,

GPS Timesheets with approvals,

Location tracking,

Labour law compliance,

Time tracking reports.
Pricing: The pricing plans are available; however, you need to connect them to discuss the pricing. Moreover, teams of less than 20 employees need to pay a $30 extra fee base per month.
Extra tip: Highly customizable reports provide insight into labour costs, assist with overtime compliance, and show you how punctual your employees are.
11.Atto
Employee time tracking software dedicated to field workers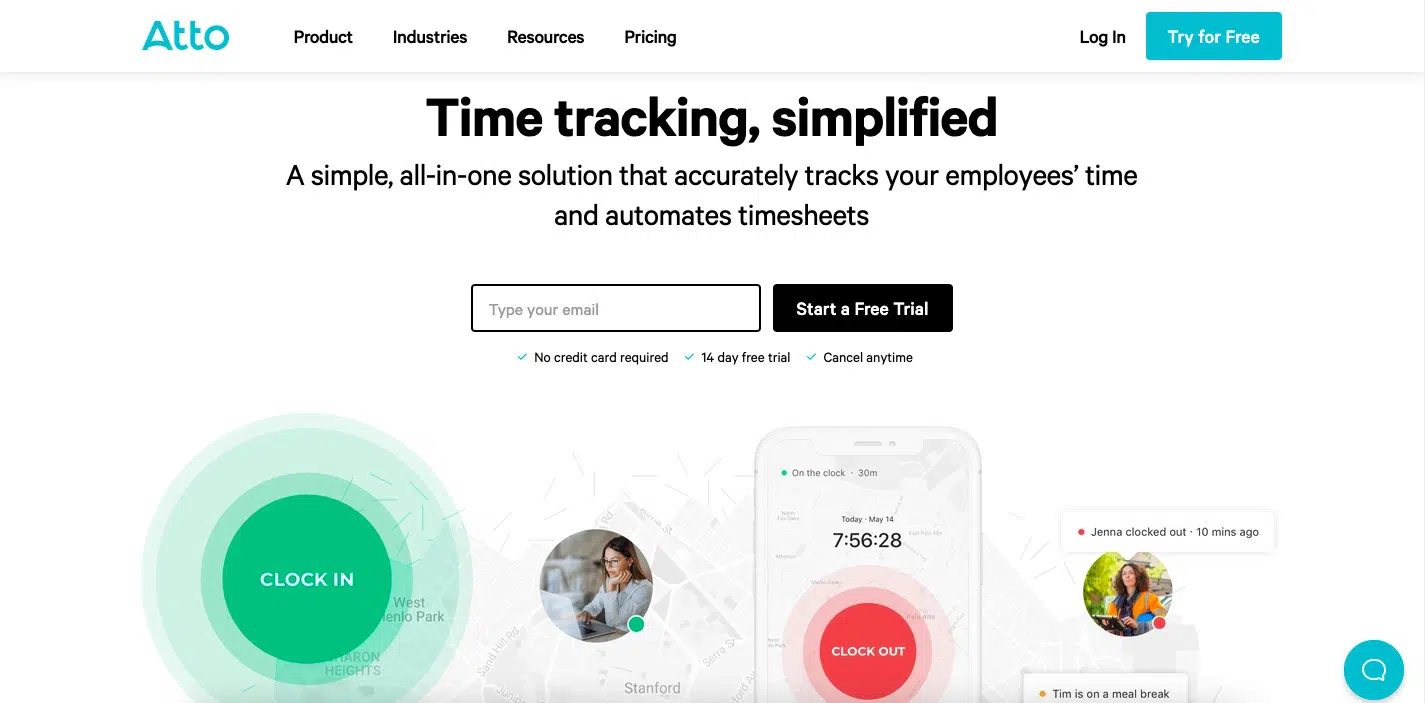 Accurate tracking of the work hours of employees who are working outside the office can be a little tricky. It is available for web and mobile app (iOS, Android).
With Atto, you can view in real-time the timeline of your employees' work and get notified of their activity. Thanks to location tracking, your team can avoid wasting time on constant checking and progress updates, so you're able to verify if your employees are where they should be during their work hours.
Key Features:
GPS location tracking app,

Time clock app with timesheets verified based on location data,

Team activity statuses with a day timeline,

Timesheet reports,

Messages,

Overtime rules,

Break preferences.
Pricing: Atto doesn't offer a free plan, yet the 14-day free trial is available. A premium plan is an offer for teams of up to 99 members; it costs $5 per user per month, billed annually. Bigger teams can contact their sales to discuss custom Enterprise plan details.
Extra tip: Atto helps companies avoid the risk of misuse, providing them with a mobile time tracking app with GPS tracking, which they can use wherever they are.
12.BeeBole
Employee time tracking tool with basic hours scheduling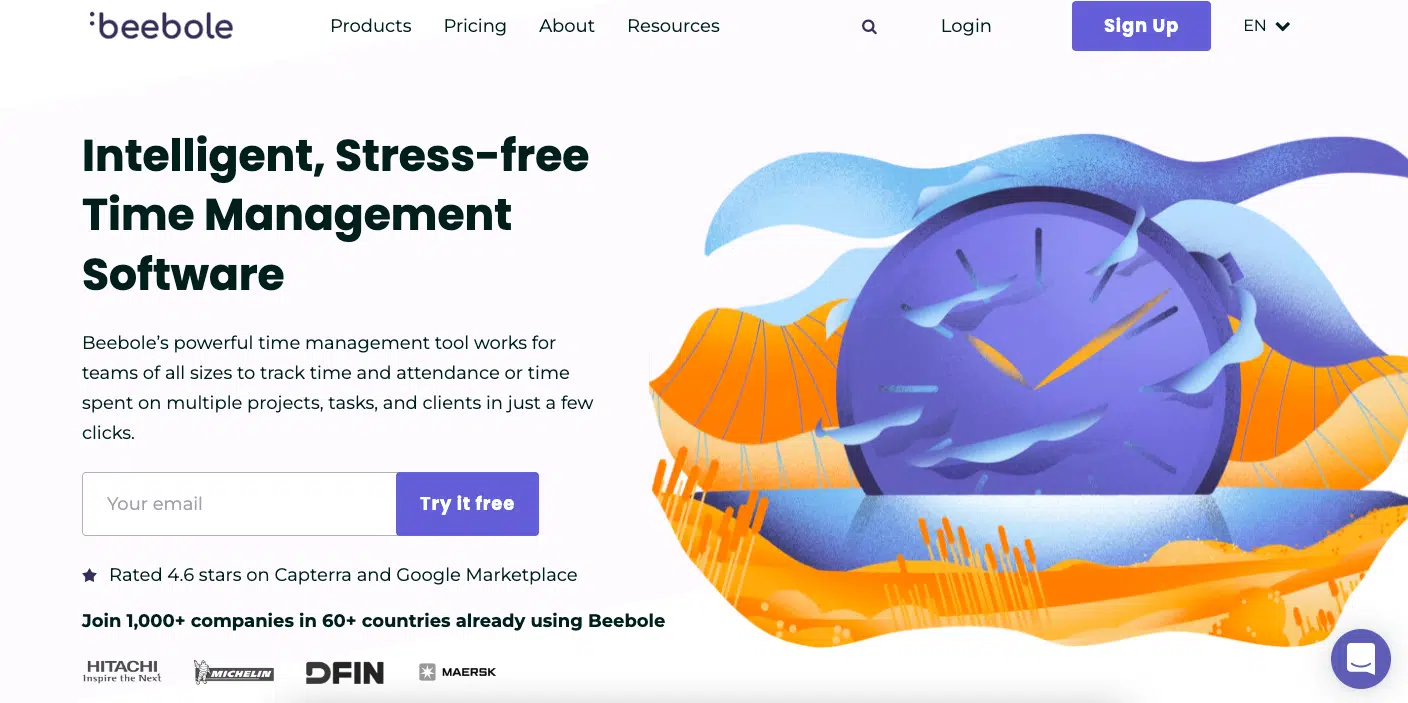 BeeBole works as a time tracking software and allows you to track time daily, weekly, monthly, and real time. You can use it in your company also if you need to track working hours to be able to accurately manage absences and holidays.
With the tool, you can easily monitor projects and budgets in real time and always know what's happening. The customizable dashboard makes it possible to generate employee reports on time attendance, budget, billable hours, margin, and profits.
Key Features:
Time clock,

Work hours and breaks scheduling,

Time off tracking,

Time reports,

Billable hours,

Budgets and costs,

Automated reminders.
Pricing: BeeBole offers just one pricing plan – users must pay € 6.99 per user/month to use all the features the tools offer.
Extra tip: BeeBole is a good solution for any type of business, for teams, individuals, and large and small organizations.
13.Jibble
Time and attendance tracking for various devices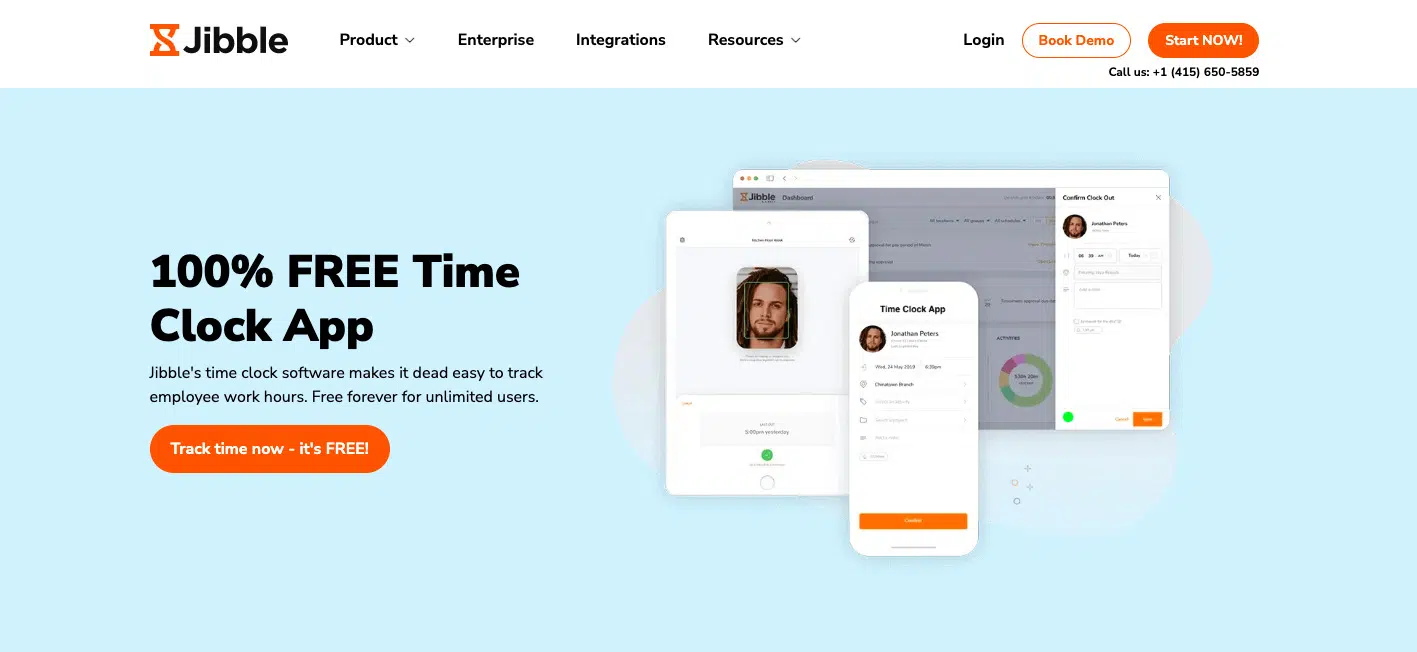 Jibble makes it easy to track time and attendance of your employees. Your team logs in with phone, tablet, or through the web app. It's best to use it with team administrators or project managers who would be responsible for monitoring employees.
Then they can manage all the important aspects such as view personal or daily, weekly, monthly timesheets, custom reports, monitor staff statistics, set up alerts.
Additionally, Jibble helps to optimize work and make your team more productive, especially if you integrate it with other tools.
Key Features:
Timesheets,

Time kiosk app with reminders,

Attendance tracker,

GPS tracking,

Detailed time tracking reporting,

Employee management,

Device lock.
Pricing: A free plan is available. The cheapest, most basic paid plan for small businesses is for €1.80 per user/month. Entreprises can contact their sales to discuss the customizable account with a dedicated account manager.
Extra tip: With the app you can make manual entries or view biometric data. Jibble has a feature of logging in with a selfie.
14.Mango
Time and billing software that eases the pain of payroll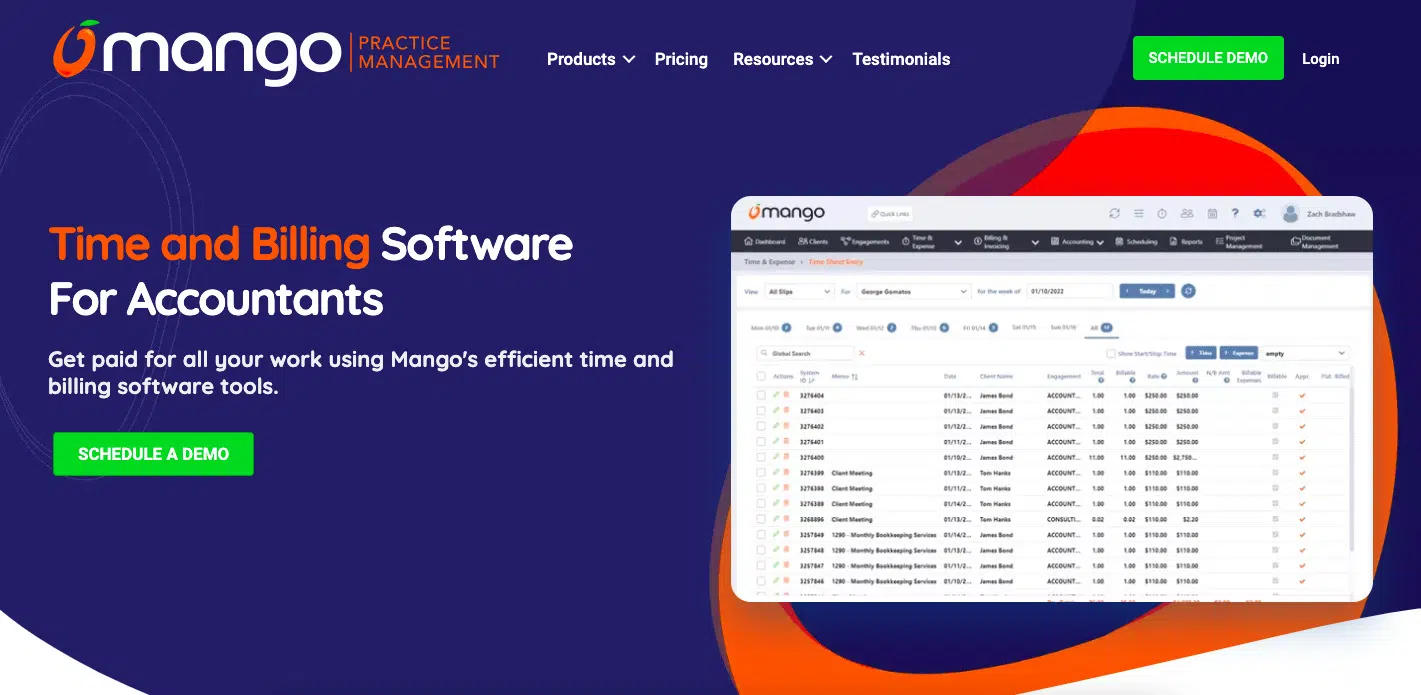 Separate accounting software can be too much for small businesses; purchasing one may end up using only half of its features. That's why many time tracking software serves now as tools that not only track employee hours but also help prepare a payroll list. One of them is Mango, a time tracking app with billable hours and expense tracking software.
Mango helps you obtain useful data for proper financial management, including billing and invoicing the customers and resource usage. Its "click and pay" feature accepts all payments and allows customers to pay as soon as they get invoiced, so you can reduce processing fees and the risk of fraud while using third-party apps.
Key Features:
Start/stop time tracking,

Manual time entries,

Reporting,

Batch time entry – adding multiple records at once,

Estimates vs. actual budget,

Invoicing with online payments.
Pricing: Most of the time tracking features are included in the cheapest paid plan, Basic, which costs $35 per user/month.
Extra tip:
15.Sling
Employee scheduling tool with time clock features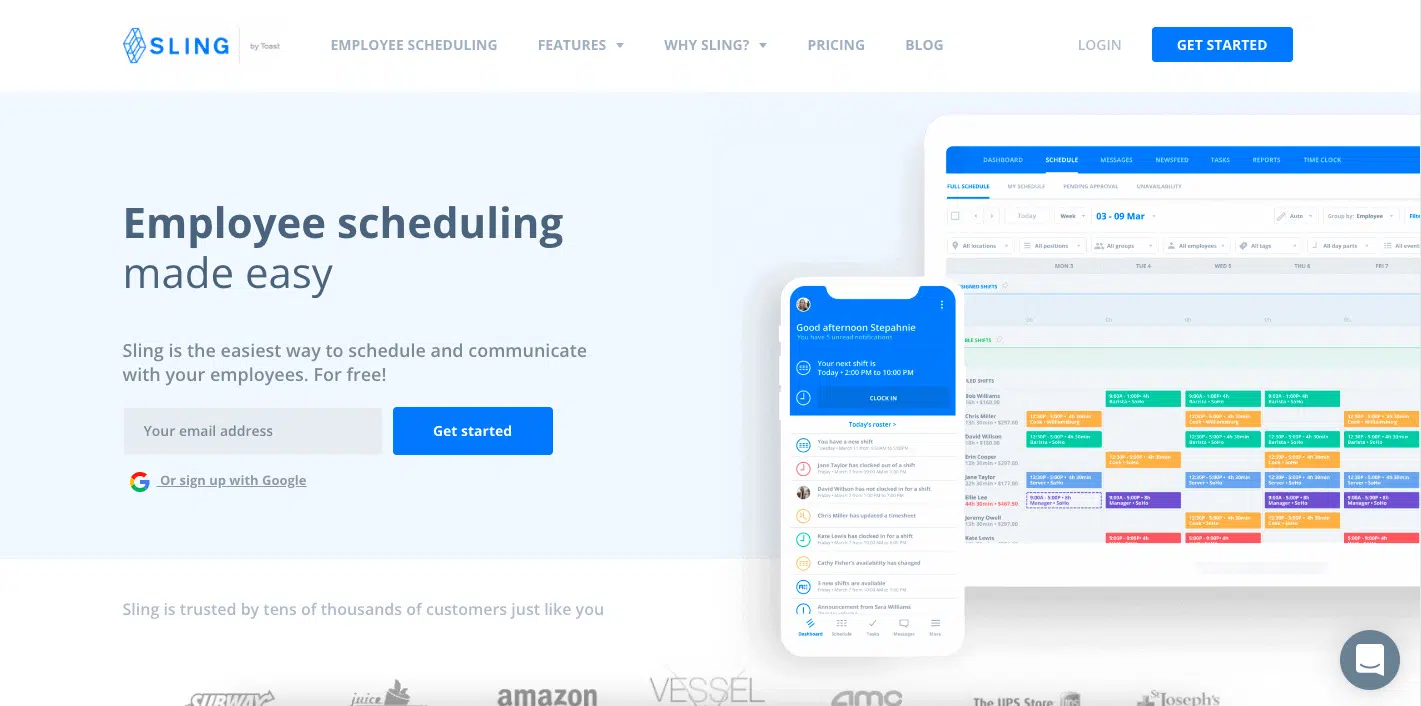 Sling works mostly as a platform to schedule and communicate with the employees, but it also serves the teams as an employee time tracking app. The tool tracks working hours and labor costs and then use the filled timesheets for payroll purposes.
Sling uses a mobile app to let track the time employees spend on their responsibilities by easily clicking in and out. It allows both employees and employers have better control over working hours because it sends notifications each time an employee is running late or forgets to clock in. What's more, geofencing tools keep the team up to date with employees' locations and provide useful data if the employees are where they should be.
Key Features:
Time tracking app,

Mobile apps for clocking in,

Geofencing tools,

Rules for proper clocking in and out with notifications,

Timesheet reviewing and exporting,

IP recognition for a remote workforce.
Pricing: Sling offers a free plan, but only shift scheduling features are included. To use the tool as a time tracker, you need to choose at least a Premium plan that costs $1.70 per user per month.
Extra tip: Sling's task management feature helps clarify everyone's jobs during their shifts, ensuring employees are aligned on their to-dos and all tasks get completed on time.
16.ClickTime
Team management and online timesheet software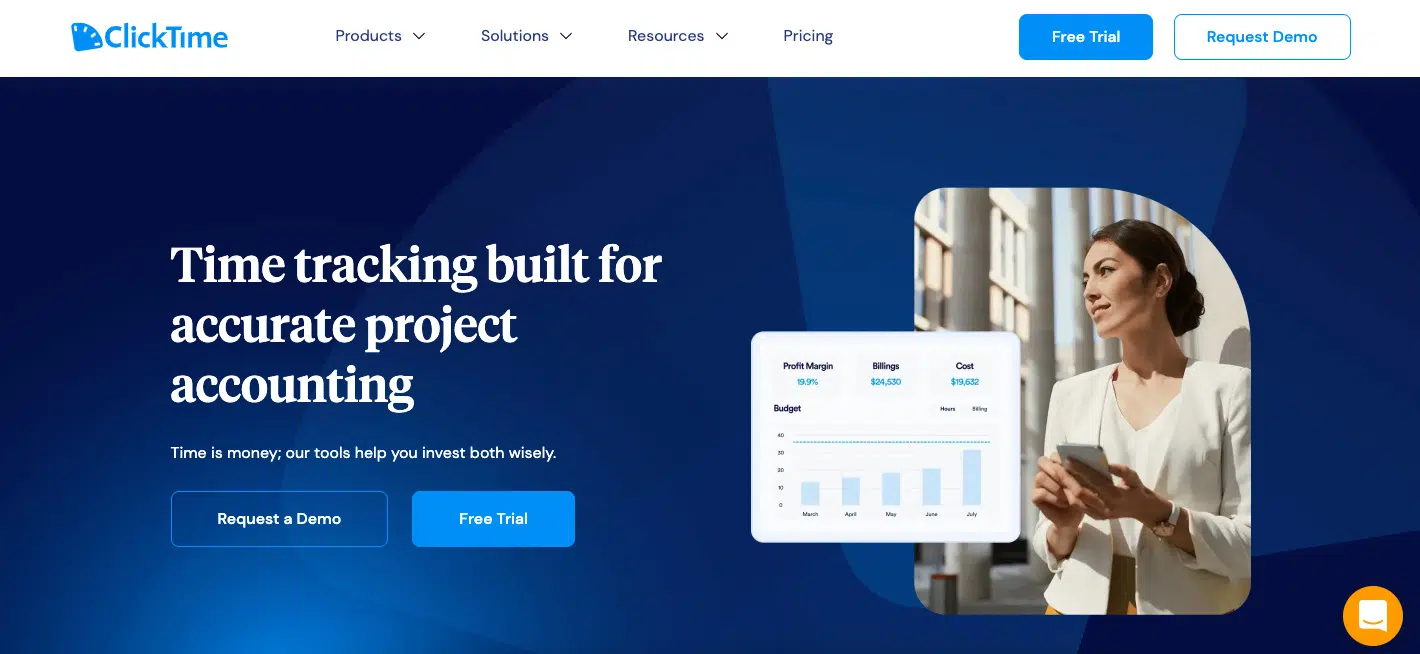 Planning, managing, and reporting on employee time can be much easier now thanks to ClickTime! It can help managers to track time and monitor money, performance. Whether you have a small or large team, the tool will help you maximize profitability and reduce costs as well as better manage your resources. It allows you to control your budget and every aspect related to it, manage workload and scheduling, and reduce administrative costs.
Key Features:
Timesheet Approvals,

Stopwatch Timer,

Go Mobile!,

Budget Time for Jobs,

Determine Project Profitability,

Data Export in XML,

Optimize Employee Utilization,

Report on Functional Expenses,

Expense reporting.
Pricing:
Starter: $10 per user/month
Team: $13 per user/month
Premier: $24 per user/month
Enterprise: custom price
Extra tip: Besides, the tool offers highly customizable dashboards, more than 60 reports, and 24/7 customer service.
17.Intervals
Project management and time tracking software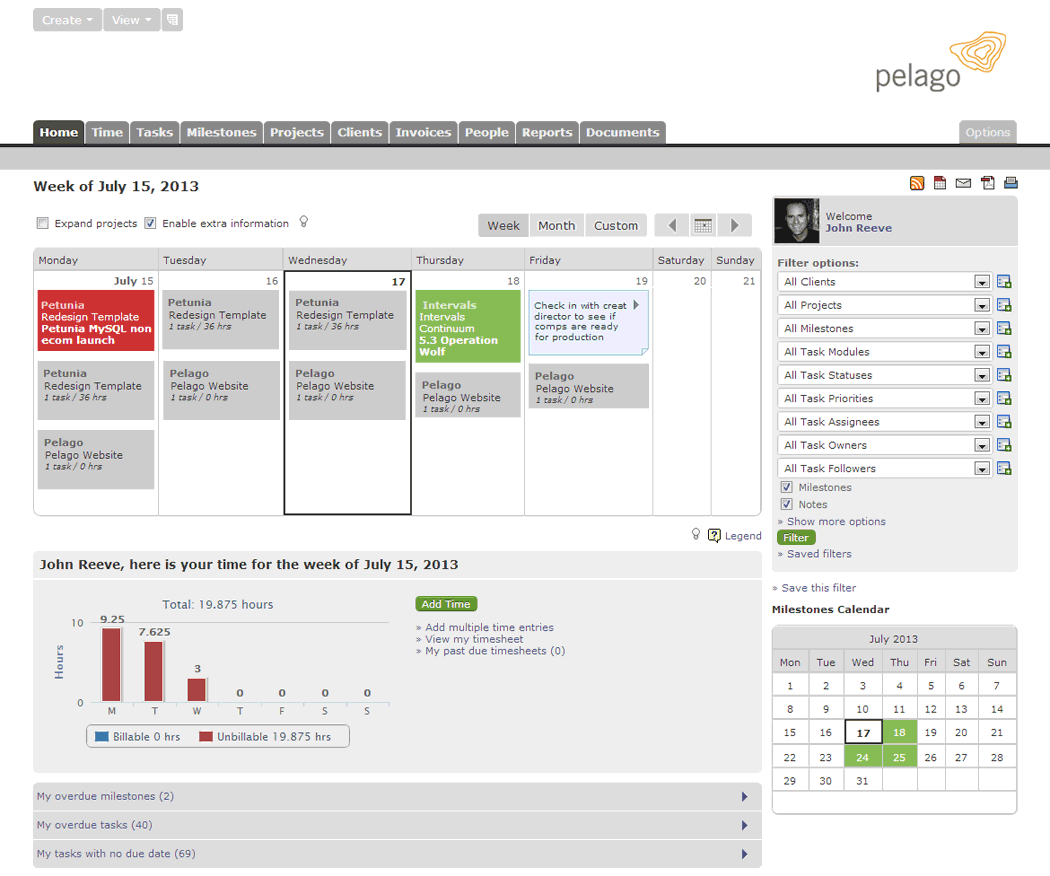 Intervals combine time management, task management, and project management into one compact package. This software offers a simple and cost-effective solution to effectively manage projects, delegate tasks efficiently, and track time and project progress.
It does not require any software to install, so you can immediately get to work. The collaborative space of Intervals is uniquely designed for the needs of small businesses, designers, web developers, consultants, creative agencies, IT services firms, and communications companies. Make your time tracking, project management, reporting and accounting easier, smoother, and more reliable.
Key Features:
Weekly timesheet submissions,

Task Management,

Project Management,

Comprehensive Time Tracking,

Document/File Storage with versioning,

Reporting and Invoicing,

Calendar view with drag and drop scheduling,

Client management,

Email Integration,

Work Request Queue,

Data Export,

API.
Pricing: The app has a variety of paid plans, but the Lite plan is the cheapest one and starts at $29 per month (per 3 users).
Extra tip: Whether you find yourself in a meeting or out in the field, you can easily manage your work and get things done from your smart phone.
18.Timogix
Time tracking cloud- based app for businesses of all sizes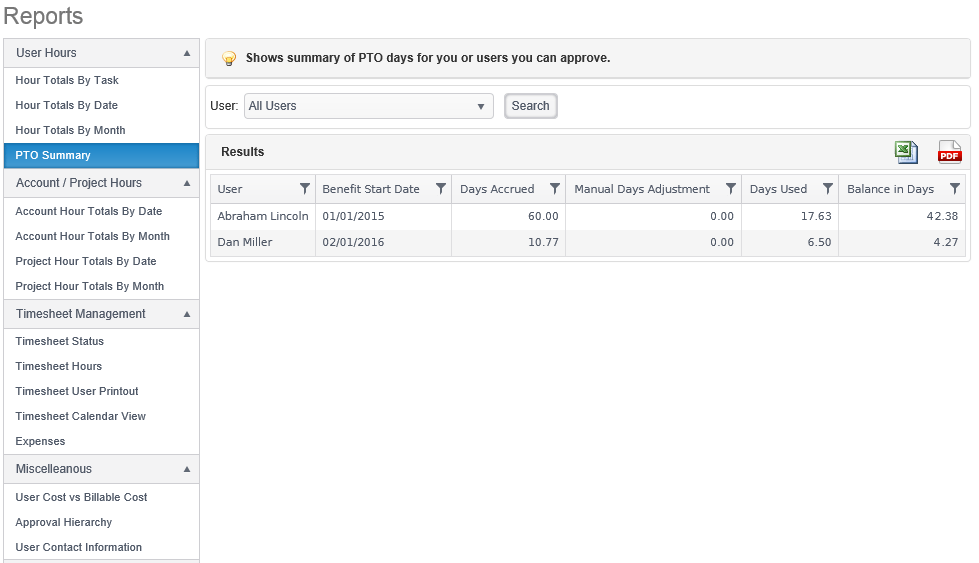 It offers numerous functions among which are approval processes, notifications, invoices, and reporting. So simple, you can run it at no time.
Key Features:
Timesheet management,

Setup hourly rates charged for users and projects,

Invoice clients from time entries or free-form entry,

Employee time tracker

and the labor costs incurred,

Approval process control,

Email notifications for submissions and approvals,

Setup access to certain reports and the data shown.
Pricing: Free for the first 3 users. Business plan costs $3 per user/month.
Extra tip: The app offers also vacation, leave and expense tracking.
19.MSCTIME
Customizable online timesheeting software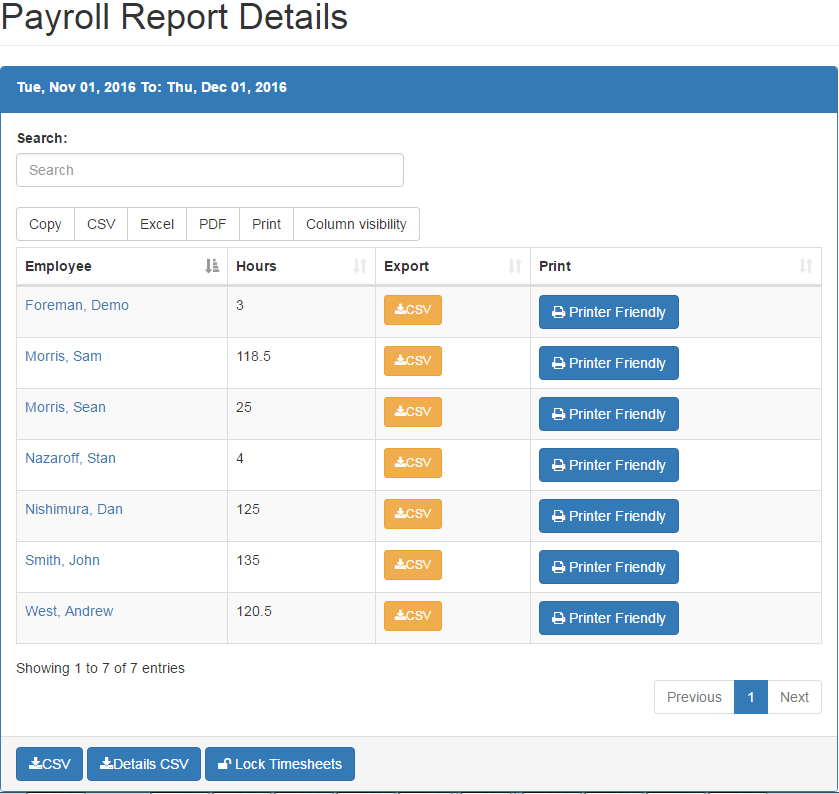 It provides companies in the construction industry with a single and centralized platform and enables to submit timesheets from it. MSCTIME helps to generate payroll and billing reports, too. It gives users quick and actionable insight into important information such as project labor costs and employee hours worked.
Moreover, the platform offers users a fully responsive cloud-based time tracking application. This measure enables MSCTIME's users to enter timesheets conveniently on the move from any internet-enabled smartphone or tablet device.
Key Features:
Project time tracking,

Timesheet management,

Billable hours tracking,

Overtime calculation,

Employee database,

Multiple billing rates,

Task tracking,

Role-based permissions,

Activity dashboard,

Cost analysis reports,

Labor cost tracking,

Payroll & billing reports.
Pricing: Free for 1 user. Most popular montly plan costs $99.99 per month (for 2-15 users).
Extra tip: It offers its users customized online timesheets, which have been designed with replacing paper-based timesheet software systems in mind.
20.Hubstaff
Employee management platform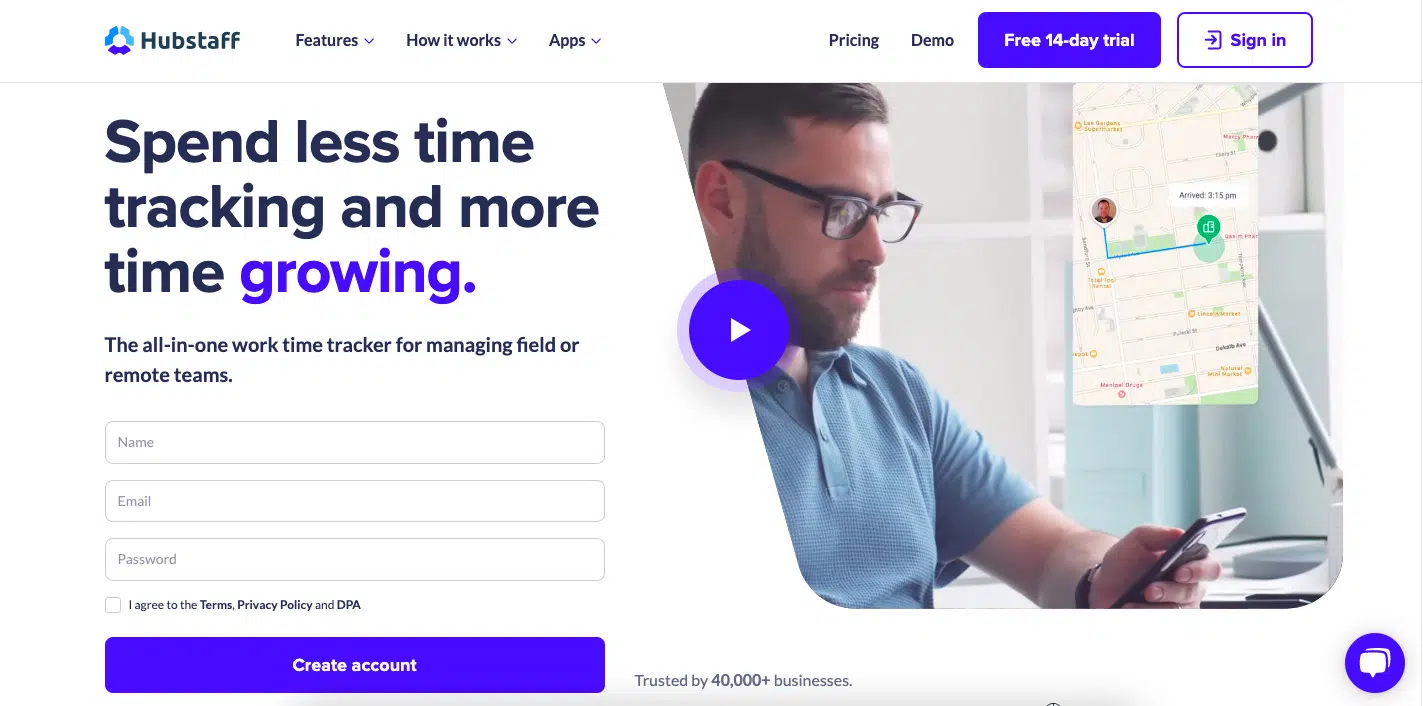 This tool is a useful one because it's an automatic time tracking and monitoring software with screenshots, reports, internet monitoring, automatic payroll, and application monitoring. It grants you the opportunity to see what exactly your team is working on in real time. Hubstaff can be integrated with over 30 software apps, among others, Podio, Trello, Basecamp, Asana, Paypal, and more. Its other advantages are included work notes and in-depth reports.
Key Features:
Online Time Tracking,

Offline Time Tracking,

Automatic Time Capture,

Employee Database,

Mobile Time Tracking,

Time per Project Reporting.
Pricing: Free plan for a single user, Basic Subscription costs $7.00 per month and Premium Subscription costs $10.00 per month.
Extra tip: Worth adding is also the fact that the app supports Mac, Windows, Linux, and iOS.
21.WorkflowMax
Cloud-based project management platform
It allows one manage all their job and project needs in a single, seamlessly integrated environment. WorkflowMax helps to stay on top of projects, save time on data entry, track time the way that suits you. Furthermore, it grants you the possibility to assign hours to a job and receive alerts when it's nearly used up. Moreover, you may create accurate time-based invoices in no time.
Key Features:
Project management,

Job costing,

Time tracking,

An end-to-end fully integrated job management solution,

Lead manager (CRM),

Quoting & estimating,

Client management,

Job tracking,

Document management,

Purchase order,

Invoicing & billing,

Custom reporting,

Staff scheduling,

Collaboration manager (clients & contractors).
Pricing: The price depends on the numer of users. Cost of one user is $20 per month.
Extra tip: It is worth mentioning that WorkflowMax integrates with more than 30 add-ons.
22.Pulse
Simple time tracker app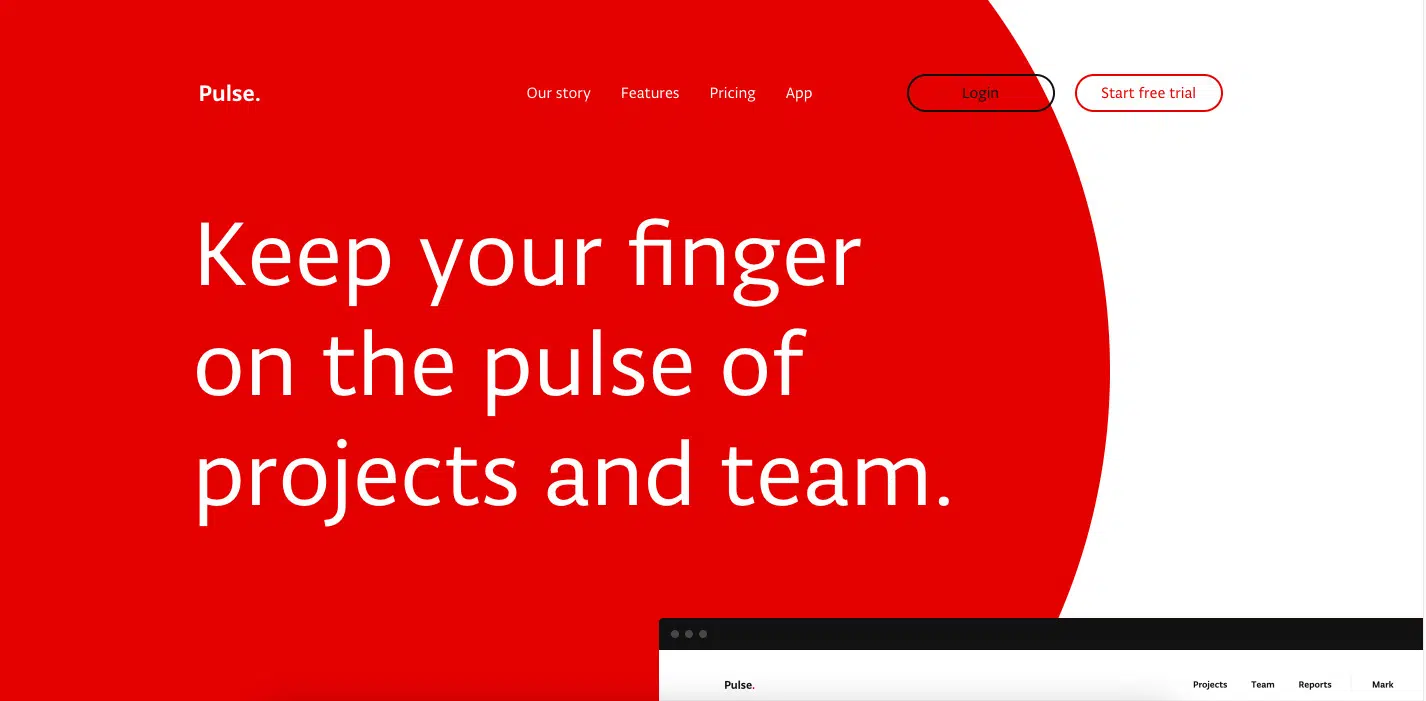 Pulse is a lightweight job hours tracker. It doesn't have such detailed features as most of the time tracking software but it's easy to use, transparent and has a clear, intuitive interface.
With Pulse, you can track your time in the minimalistic app for desktop, or in the web app in your favorite browser. It's focused on being functional so you can easily create projects and log time to them. You get a team dashboard and simplified management features, project time estimates, a live view of who's working, and team reports.
It's the best time tracking app for freelancers, small teams, and small businesses that need a straightforward time clock with time reporting to bill clients accurately for projects. It's also helpful in tracking time spent on remote work.
Key Features:
Time tracking,

Team dashboard,

Project management features,

Time reporting system.
Pricing: Free for the individual user. It starts with a basic plan which costs $29 a month. A 30-day free trial is available.
Extra tip: Pulse provides a simple project overview to help monitor a company's financial health and time people spend on work.
👉 Read more about small business time tracking
23.WorkLog
Mobile time tracking app
WorkLog is a time tracking app for mobile (Android). It's a time log tool that keeps track of the number of hours worked and wages paid over your pay period.
Key Features:
Time clock with punching in and out, or entering time manually,

Automatic break deduction and pay period settings,

You can customize the app according to your preferences,

View your hours in a variety of ways such as by week, month, pay period, or all of your shifts at once,

Set your pay period to automatically calculate how much time you worked and your wages for each paycheck,

The app

tracks expenses

, tips, sales, mileage, holiday pay, and more,

Keep track of overtime hours and wages for up to two separate overtimes.
Pricing: free. In-purchase is available in the app.
Extra tip: It's a great solution for employees who are often on the move and need a mobile app to log work time quickly.
24.focus booster
Time tracking app for Pomodoro technique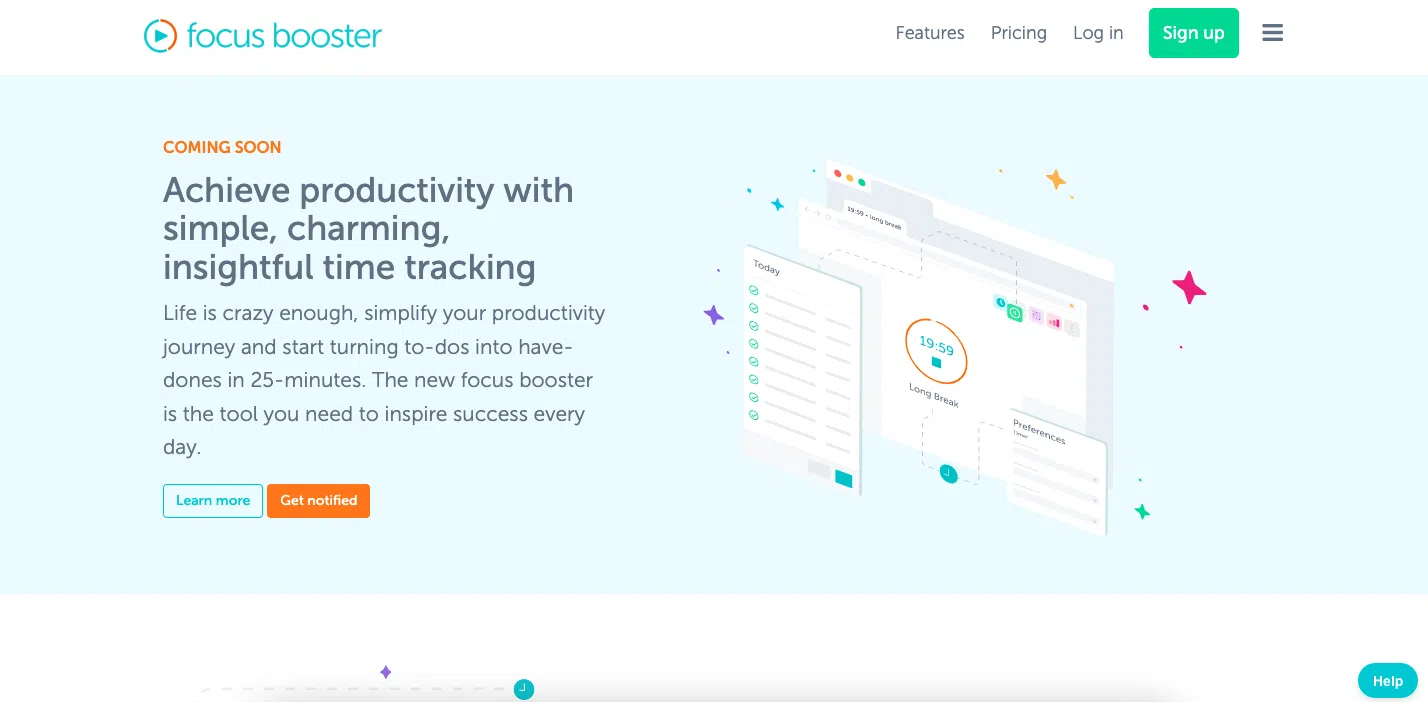 The tool is a perfect solution if you're looking for a simple Pomodoro timer to track your time in 25-minutes intervals, or if you want to try out the technique to better manage your time.
focus booster has all the necessary management features for the best time tracking software—a to-do list, simple time tracking, mini and minimalistic timer, light and dark modes, reports with date, client, or label. You can see your progress in a neat dashboard that visualizes all data. Also, you can add time entries manually to your timesheet.
Key Features:
Pomodoro timer,

Today list,

Dashboard reports,

Clients and billable hours,

Time entries,

Session replay,

Browser tab count down.
Pricing: free with limited features. Professional plan – $4.99 per month.
Extra tip: The free plan of the focus booster includes 20 Pomodoro sessions per month, simple time tracking, and productivity reporting. Tracking billable hours is available only in paid plans.
25.Amazing Marvin
Personal productivity app with time tracking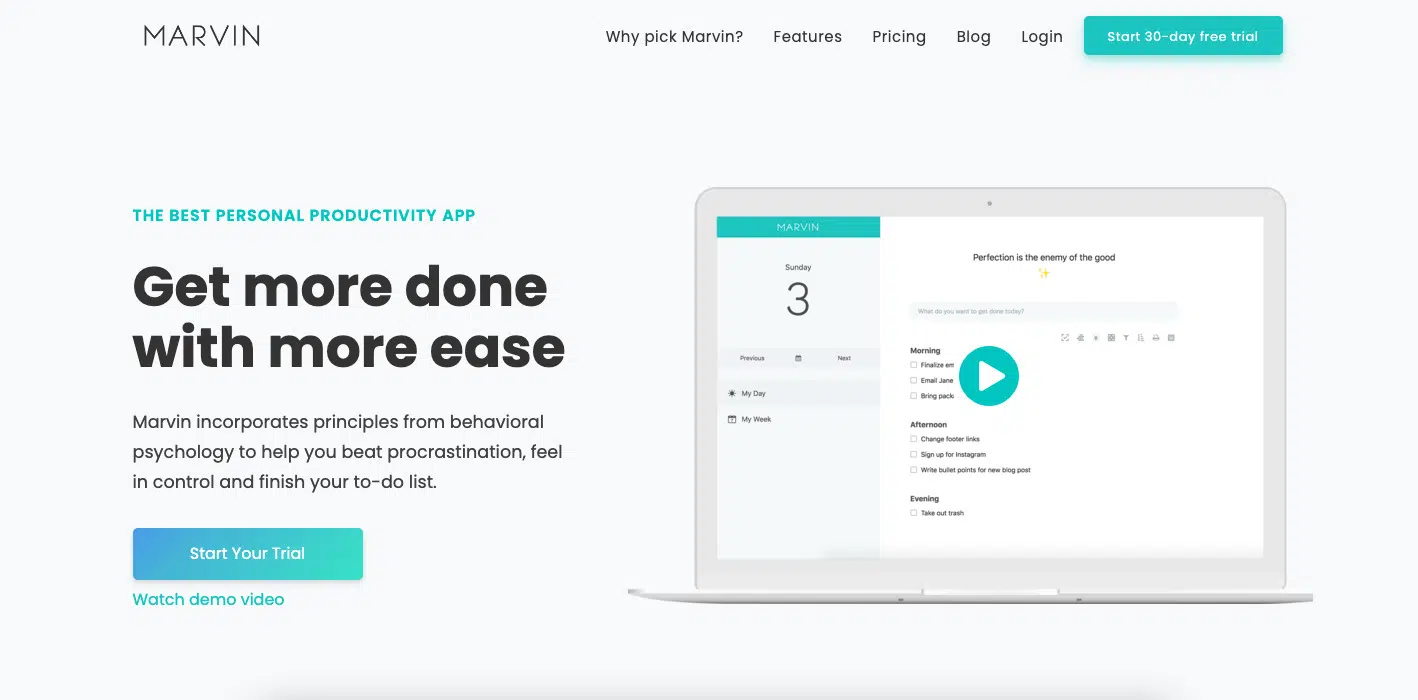 Amazing Marvin is a productivity app that offers a time tracking option. It's a lightweight, customizable task manager and daily planner for beating procrastination.
Key Features:
There are two built-in timers: a sand timer and a tomato timer,

Tracking time with time blocking,

Duration time estimates,

Build-in start/stop timer,

Total time for all your time tracking sessions for tasks,

Editing time entries manually,

Daily and weekly time targets,

Time tracking statistics with a breakdown of your time tracked,

A table view with time tracked organized by categories.
👉 Read also about Best Time Blocking Apps
Pricing: Amazing Marvin doesn't offer a free. Monthly subscription – $12/per month; yearly with $8 per month (billed annually), and a Lifetime purchase billed once with $300.
Extra tip: Marvin allows you to build your own workflow and decide how many hours you want to spend working for different clients.
26.Checkiant
Time tracking with employee monitoring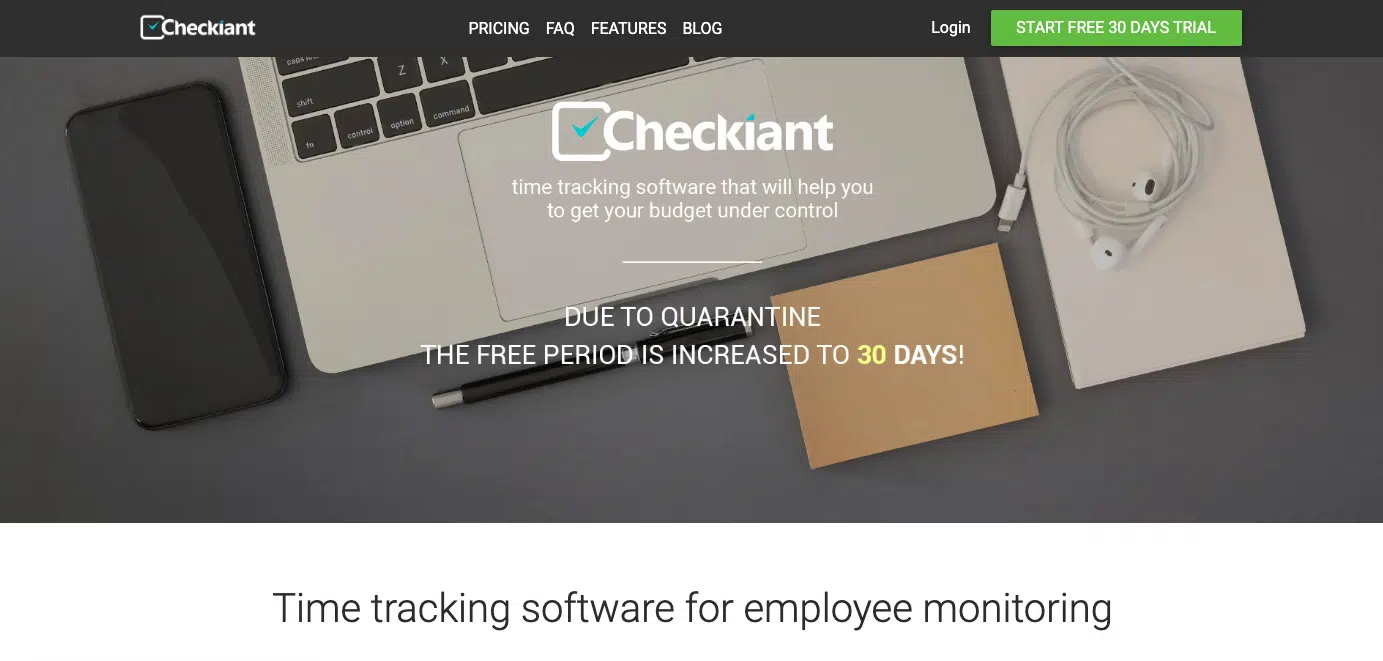 Checkiant is a time tracking software with employee monitoring and productivity tracking. The tool is simple but has all the necessary features you need to track your time.
Checkiant offers automatic time tracking with a simple start/stop online time tracker. You can freely add, remove, and change time entries, or track your time manually.
You receive simple reports with projects, and clients, and tracked time for all team members. Besides tracking time, you can monitor the time your employees spend on work to allocate resources better and plan workflow.
Key Features:
Time tracking,

Project management,

Clients management,

Earnings tracking,

Rates management,

Build time/ money reports.
Pricing: 30-day free trial is available. During this period you can try all features. After the trial, you can either stick to the freemium plan (for 1 person) or subscribe to Premium ($5 per user/month), or Enterprise ($10 per user/month).
Extra tip: Available only as an online time tracking app.
27.DOL-Timesheet
Time tracking for overtime
U.S. Department of Labor's Mobile Timesheet app is an official governmental time tracking app. It's an app to track hours worked and calculate pay.
There's a simple automatic time tracker that works as a time clock. You can add or edit time entries manually. DOL helps track billable time for regular work time, break time, and overtime.
Additionally, the app calculates overtime pay at a rate of one and one-half times (1.5) the regular rate of pay for all hours you work over 40 in a workweek.
Reports are available as simple timesheets with basic information—start and end time of work, breaks, total time spent on work, and date.
This DOL-Timesheet does not currently handle items such as tips, commissions, bonuses, deductions, holiday pay, pay for weekends, shift differentials, or pay for regular days of rest. However, new functions are in development and are being continually added.
Key Features:
Time tracking,

Billable hours,

Overtime tracking,

Simple timesheets.
Pricing: The DOL time tracking app is free of charge and you don't pay for using it.
Extra tip: The app is available only on iPad and iPhone and doesn't integrate with other tools.
28.OnTheClock
Attendance and time tracking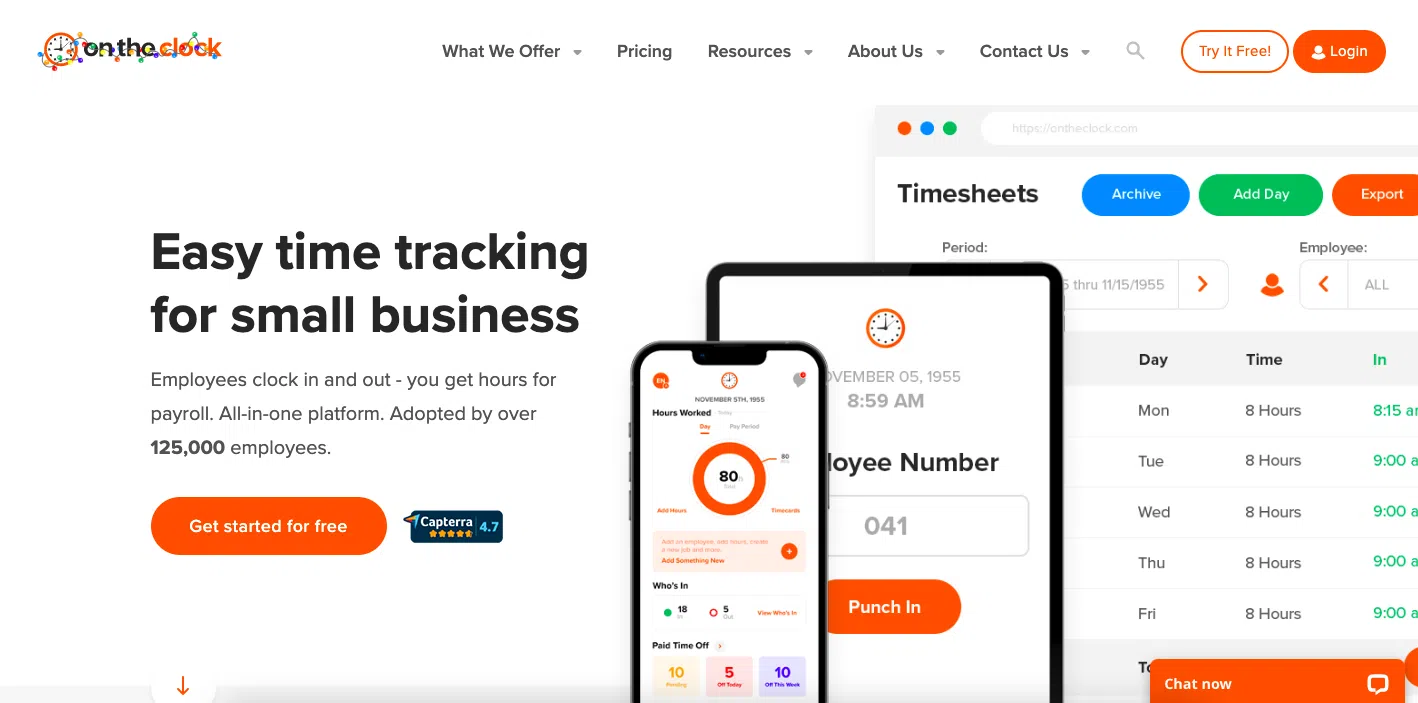 OnTheClock is an employee time clock system for small businesses and teams to track employees'​ hours worked and improve payroll processing.
It's a time tracking app that works as a working hours log and allows you to access time cards quickly, and manage employees and shifts.
The web-based time clock automatically calculates time cards, including regular and overtime, paid time off hours, and more. The number of hours and time you spend on different projects is available in timesheet reports.
Additionally, you can authorize almost any device to be used as a time clock; employees can clock in from their phone, a computer, or using their fingerprint.
Key Features:
Online Time Clock,
Shift Scheduling,
GPS/ Fingerprint,
Payroll Integrations,
Time Off Tracking (PTO).
Pricing: free plan is available for up to 2 users. Pricing starts at $3.50 per user per month. Free 30-day trial with all features is available.
Extra tip: OnTheClock also offers messaging feature to communicate with your team members within one app.
29.Keeping
Simple online time tracker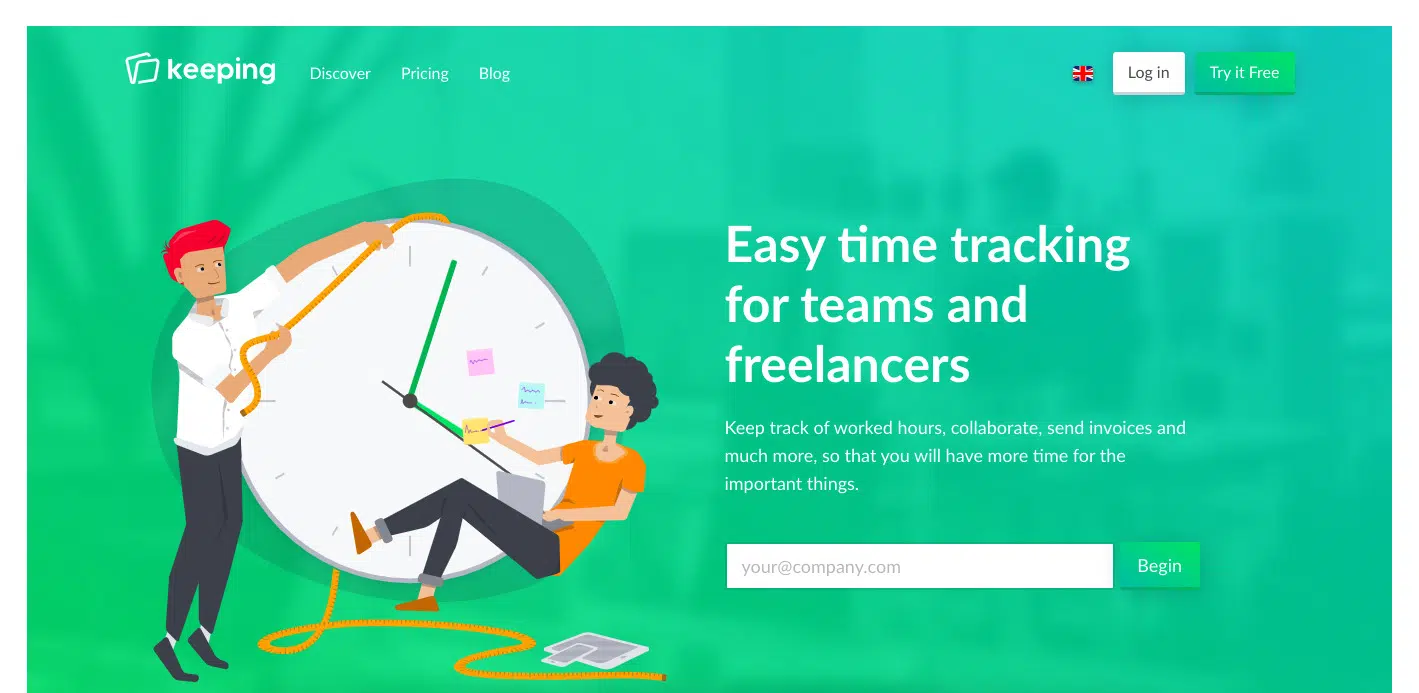 Freelancers often struggle with proper recording of actual time spent working for their clients. A proper time tracker app solves that problem – so does Keeping, which offers a nicely packed free plan that should meet every solopreneur's needs.
Keeping is one of these time tracking tools that, besides registering working hours, also accurately track and report non-billable and billable time, giving you an insight into your business' revenues. You can then create invoices based on time entries and send them to your customers. The tool also integrates with accounting apps.
Like many other time tracking apps, Keeping also offers reporting feature. You can determine what to include in the report – projects, tasks, team members, and the number of working hours.
Moreover, you can also use the features of this simple time tracking app to maintain the highest level of productivity tracking and gain insights into the team's performance.
Key Features:
Time tracking,
Reports,
Billable and non-billable time,
Invoicing.
Pricing: If you're a freelancer, Keeping offers a free time tracking app that offers features like timesheets and project budgets. For unlimited users, there are two dedicated paid plans (€ 5,40 and €16 per user per month) that include e.g. most of the integrations.
Extra tip: Generate the report and send them to your clients as an Excel, PDF, or CSV file.
30.WebWork
Time Tracking and Employee Monitoring Software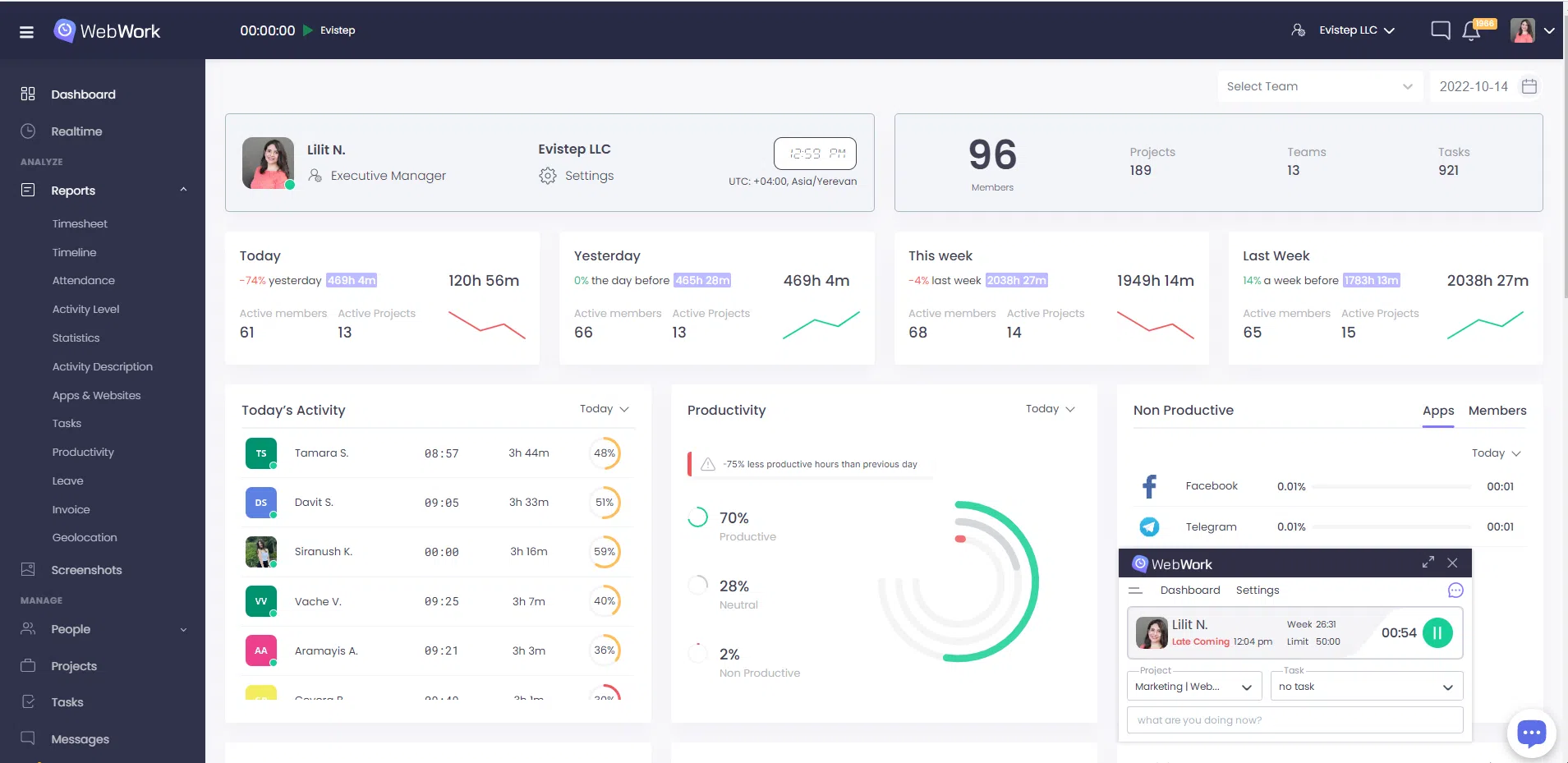 WebWork is a time tracking and employee monitoring software. It is suitable for all types of teams. WebWork aims to boost productivity and reflects how you work.
Key Features:
Screenshots (4 screenshot modes),
Attendance monitoring,
Activity level- detailed information of your activities by percentage based on mouse clicks and keyboard strokes,
Reports,
Task management,
Invoice,
Time tracking,
Billable hours,
Member types.
Pricing: Basic ($4,99) and Enterprise plan with a custom price.
Extra tip: It helps you to focus, improve work-life balance, and make the best out of your work.
Hour tracking apps – conclusion
Time tracking software is a valuable tool for managing time and promoting productivity in your business or organization.
With so many options and available functionalities, it can be hard to choose the right app to track work hours.
From the list above, you'll find that TimeCamp is the best option for both freelancers and business organizations. Its integration system is the most developed and can work on several platforms. With TimeCamp, an automatic time tracker, you can manage all your work schedules and productivity goals at once.
Hope you've already found your best time tracking software from among the tools listed above. Or maybe you know an app that calculates work hours other than time-tracking software? Feel free to share your choice in the comment section!