Table of Contents
What a simple time tracker should offer?
How to choose a simple time tracking app?
How to implement easy time tracking with TimeCamp?
How much does TimeCamp simple task time tracking software cost?
Simple time tracking
Different companies have different needs to cover the automatization of business processes. The same goes for time tracking software – some teams require reporting features for a complete overview of billable hours to estimate and analyze a project's profitability, and the other ones just need a simple time tracking tool to register the team's work hours and out for attendance purposes.
TimeCamp, a multipurpose, simple employee time tracker app, knows how to help both, but let's focus here on the simple time tracking ways it offers!
What a simple time tracker should offer?
The timesheet filling process is tedious enough to make it even more complicated using an inappropriate tool. So, what to look for when searching for an easy time tracking app?
Simple,

intuitive interface

– the last thing you want to do after launching the tool is spend hours figuring out how it works,

Automatic time tracking

– a web app that works in the background and starts tracking time automatically once you launch the device is a must,

Clocking in and out

– some companies just need a tool with a start/end tracking button, so why choose something more complicated?

A free trial

– is essential to find out how the tool works and if it meets our needs without spending a single penny,

Filling timesheets for a few days in a row at once

– to track time for recurring tasks.
How to choose a simple time tracking app?
Automatic time tracking is a must-have these days, no matter if you hire a thousand people or just a five-member team. It reduces time-related business processes to the necessary minimum, supports paperless attendance management, and provides valuable data for project profitability and employee performance optimization. However, if you just need to know how many hours your employees usually work, a simple tool will be perfectly sufficient.
👉 Choose the least expensive pricing plan
Measuring employee productivity and tracking time for attendance purposes doesn't require fully-featured time tracking software. Luckily, even the most comprehensive time trackers offer various pricing tiers with different feature ranges.
A free plan usually covers basic time tracking features like simple clocking in and out in the web app, projects and tasks structure, simple reports, and desktop app and mobile app. Surely it's enough to cover daily absence tracking and essential knowledge about time spent on different projects.
Keep in mind that free time tracking apps are usually for a maximum of up to five users. Unlimited users (alongside unlimited projects) are available in per-seat pricing, but you can earn a discount if billed annually.
💡 However, in TimeCamp, you're getting unlimited users for free. Check out our pricing!
👉 Find a simple time tracker app, not an HR suite
The SaaS market is full of different tools that offer way more than just easy time tracking. Besides keeping track of time and attendance, they're packed with features that are more specific to the tools for HR departments.
If you just want to track your time, check how much time individual users spend on tasks, or track hours worked for payroll purposes, surely you don't need employee scheduling or a shift planner. Find a tool that'll help you accurately track time for multiple projects, that provides you with time tracking data to generate reports for simple performance analysis, and that allows you to fill timesheets with time entries with just a few clicks.
The good news is it's everything you can expect from TimeCamp, which was designed just to make time tracking software easier. Want to track time for employee monitoring purposes? Check! Need a tool that automatically fills your timesheets? Check! Want to use the recorded time to check the time invested in a specific project or task? Check! What's more, you're getting all of mentioned above for free or at affordable pricing. Great deal!
👉 Read the opinions on SaaS marketplaces before purchasing
If you're a beginner in the time tracking software world, you can find different time tracking tools and options confusing. The market is full of many similar apps – one app often offers an almost identical set of features like the other apps, in a similar price range.
Try to google the names of time tracking apps that have already drawn your attention, adding a "reviews" term. You'll probably see plenty of websites that gather the essentials about various tools and provide user feedback for them as well. Some of the tool's clients use the rating only, but others write extensive reviews about the general product usage, mentioning the features they like and dislike the most and why. It's a great source of knowledge that helps compare the experience and choose the time tracker app suitable for the company's needs.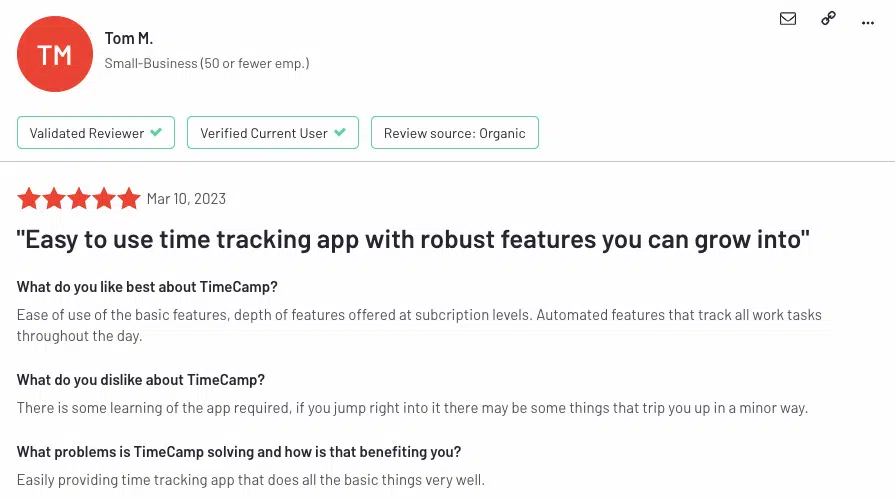 💡 You can find TimeCamp reviews on our profiles on Capterra, GetApp, SoftwareAdvice, or G2Crowd. We're proud of the high ratings and hundreds of not only nice but also highly explanatory reviews from our users. Check them out!
How to implement easy time tracking with TimeCamp?
TimeCamp is loved by freelancers and teams of different sizes and needs for its versatility. It understands how important automation is while embracing simplicity. What features distinguish it as a simple tool for employee time tracking?
💚 Week view
An easy time tracking app implies a quick, simple service. If your work style requires filling timesheets with a general duration of time spent on particular tasks.
The feature lets you quickly log hours spent on a particular project or task without inputting start/end hours.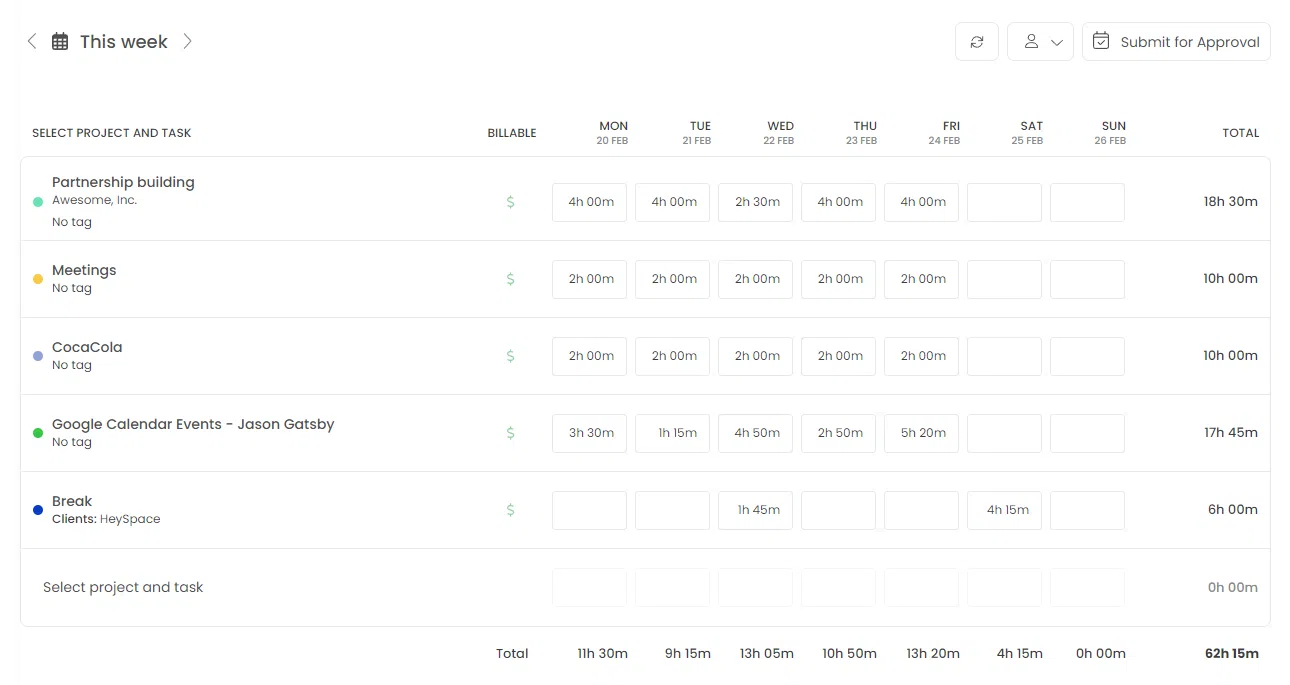 With Weekly View, you'll fill out your timesheets with time entries for the entire week at once or once every few days. Sounds nice and easy, doesn't it?
How to use Week view?
Select a project or task and add the number of hours spent on it,
TimeCamp automatically marks the start/end hours, so time logged with the Weekly view is perfectly synchronized with the other views,
Keep in mind that once you delete the row, the time logged during the entire week and assigned to that specific task will be erased.
Logging time with Week view is quick and extremely convenient if your workflow requires only the number of hours logged for a specific project or task. Filing a timesheet for a few days in a row saves you time for what really matters!
💚 Desktop app
A desktop app is a must if you want a simple time tracker that reduces distractions to the absolute minimum. TimeCamp provides an app for Windows, MacOS, and Linux – all these apps start automatically once you launch your computer and work in the background, filling timesheets with time tracked within the work hours.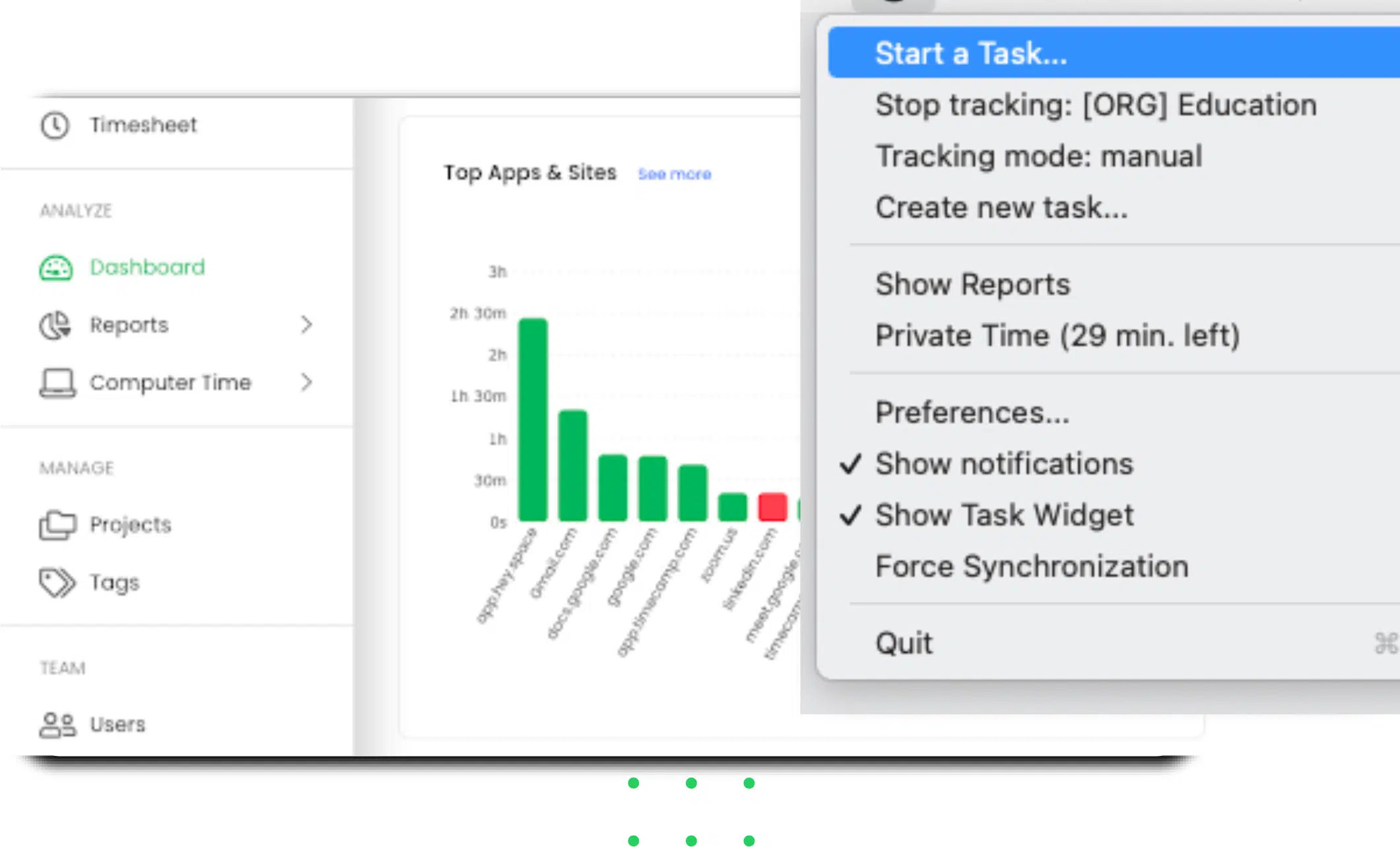 What's more, once you define the keywords (and it takes just a few clicks to do it, easy as that), the tool automatically assigns each time entry to the specific projects or tasks.
💡 To download our desktop app, choose your operating system on the Apps site or simply create a TimeCamp account, and trigger a download – TimeCamp will automatically recognize what system you use.
💚 Time clock kiosk
Running a manufacturing, hotel, or restaurant industry doesn't require implementing comprehensive (and complicated) time tracking software. All the entire team needs is a simple time tracker app to clock in and out, and the tool serves more for attendance purposes than monitoring specific project status.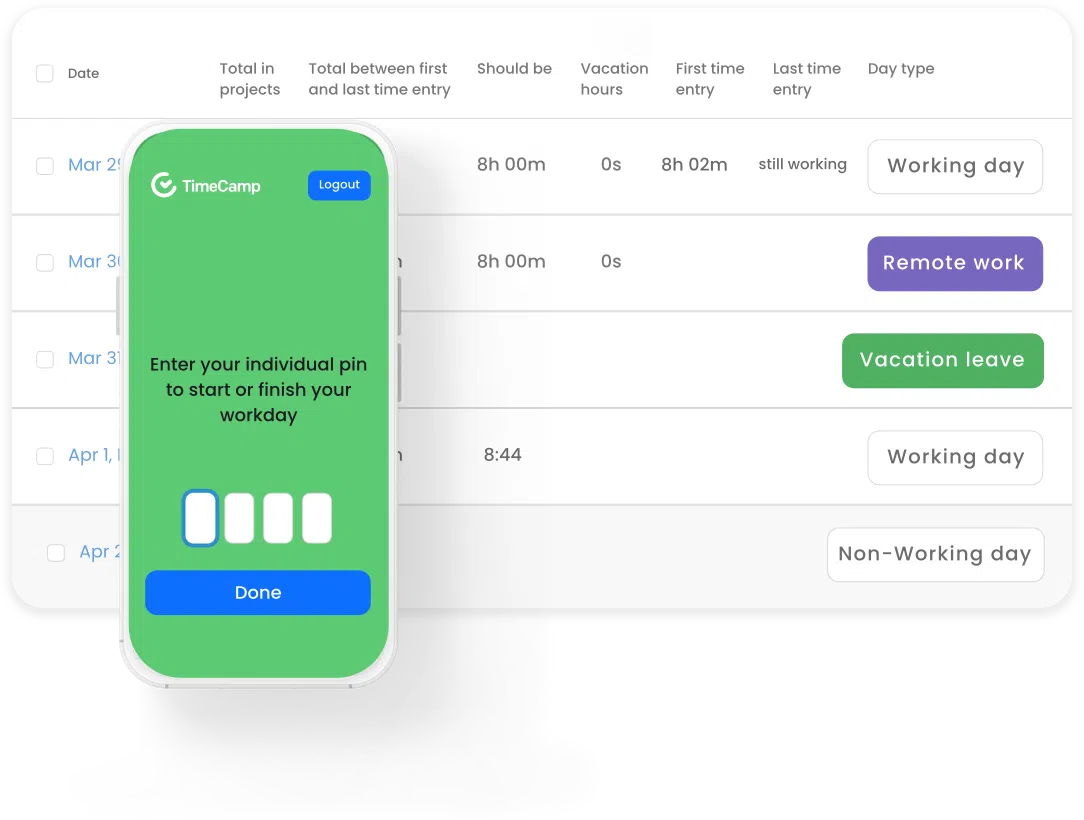 A time clock kiosk registers work hours by pushing in and out once the employees start and end their shifts. Time tracked this way appears automatically in their timesheets, and the managers can then use the data to generate detailed reports for attendance purposes.
What's best, the tool eliminates paper punching cards that one can easily lose or damage. The time clock kiosk in TimeCamp uses unique, easy-to-remember 4-digit PIN codes. As you can see, employee time tracking software doesn't have to be complicated!
💚 Automatic timer
If you just need a timer working in the background, simply open the TimeCamp web app timesheet view, choose the project or task (or leave it for later), and click "start timer". Stop the timer once you finish what you're working on.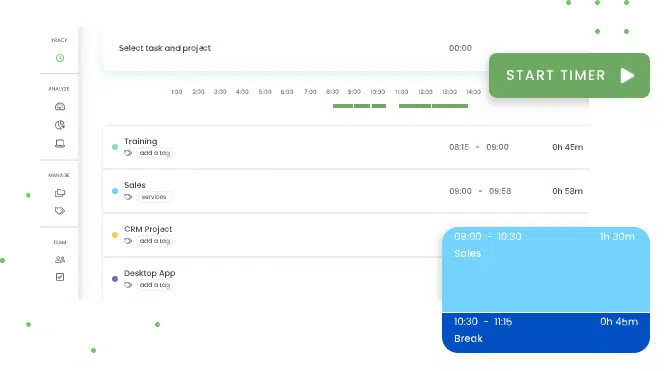 💚 Copying time entries from previous days
Once you enter the web app day timesheet view, you'll see the button that allows you to copy the entries from a chosen day to another. You can even clone the entire day, because why waste time getting into the details? It's an easy time tracking trick for those who don't change the tasks very often and just need to copy and paste their timesheets in a simple way.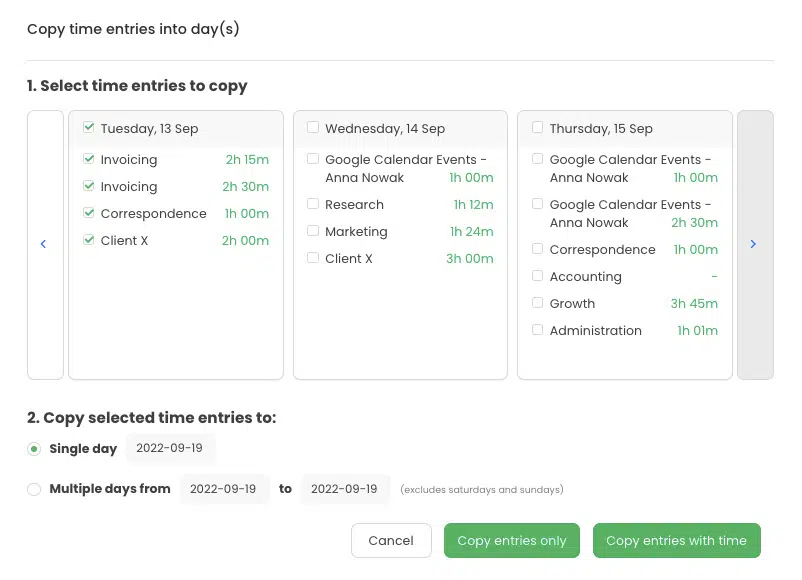 Track time easily!
Usability and simplicity are absolutely inseparable. And TimeCamp understands it, providing you with many ways of time tracking that don't require digging deep into the product to start logging your time. However, once you learn the basics and get used to the easiest time tracking options in TimeCamp, we highly encourage you to get familiar with the other features – take a look at their clear overview!
How much does TimeCamp simple task time tracking software cost?
TimeCamp offers a 14-day free trial and affordable pricing for teams and freelancers with various needs:
Free task time tracker

– a free plan of TimeCamp for unlimited users includes all the essentials the best employee time tracking software app should have - accurate time tracking, unlimited projects, a time clock kiosk, desktop, and mobile apps, idle time detection, and many more,

Starter - $2.99 per user per month

, including unlimited tasks, excel reports export, attendance, time-off, overtime tracking (billed annually),

Basic - $5.99 per user per month

, including unlimited integrations, billable time, budget & estimates, apps & websites tracking, project archiving, and more (billed annually),

Pro - $7.99 per user per month

, including billable rates, labor costs, invoicing, timesheet approvals, custom user roles, and more (billed annually)

Enterprise - custom pricing;

contact sales team for more details
💡 Also, check if TimeCamp suits you right for free for 14 days – no credit card required!